Economy class passengers dread crowded aircraft cabins. Airlines and airplane manufacturers know this.
But instead of creating more room for passengers — a move that'd likely lead to a reduction of profits — the prevailing strategy when it comes to cabin upgrades is to distract fliers with better inflight entertainment systems and new seat designs that provide the illusion of enhanced comfort.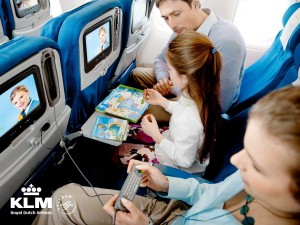 This, anyway, would seem to be the lesson from April's Aircraft Interiors Expo held in Hamburg, Germany.
The aircraft cabin show attracted nearly 15,000 aviation industry attendees.
So what products did suppliers unveil to help us forget about our crushed knees?
Here's a look at enhancements you might be seeing on a future flight.
Inflight entertainment: PXCOM/Lufthansa System's BoardConnect
In-flight entertainment systems are getting upgrades that will allow passengers to do their trip-planning inflight.
PXCOM and Lufthansa's BoardConnect system let you arrange travel while you travel. PXCOM from France is betting we'll be making reservations for meals, shows and other activities while en route to our destinations, booking tickets before we land so we can skip those long museum lines.
It's partnered with Lufthansa System's BoardConnect wireless inflight entertainment system to let us make those restaurant and other reservations on our choice of gadgets.
The companies also want us to wave goodbye to tired airline touch screens that aren't as touch-friendly as our own handhelds.
BoardConnect revealed a seatback frame that lets airlines install latest-generation tablets faster than we can change a light bulb.
Well, pretty close.
Inflight Wi-Fi: More Exede speed
We love surfing the Web at 30,000 feet, but connectivity in the skies is often spotty.
To the rescue is ViaSat, whose Exede service already powers the fastest Wi-Fi in the sky (on JetBlue and United).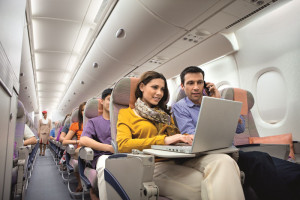 The company is going global by launching new satellites and partnering with more satellite providers.
Other inflight connectivity powerhouses, like Thales, are zoning in to compete with Exede's speeds.
The race is on to give us the same Wi-Fi experience in the air that we enjoy on the ground — uninterrupted and everywhere we fly.
Economy seats: Panasonic Jazz seat
Not every economy-class seat we saw at the show came with narrow armrests, slim cushions and lots of uncomfortable company.
Feeling moody blue or brighter?
The economy-class Jazz seat lets you choose your light.
Panasonic has partnered with aircraft seating manufacturer B/E Aerospace and design gurus at Formation Design Group and TEAGUE to develop a seat worthy of its high-tech label.
Its new Jazz seat isn't just comfortable (relatively), it's pretty darned handy.
The Jazz features custom stands for smart phones and tablets with inductive charging to power them inflight, a personal reading light with mood lighting options and stands to store our precious electronic companions.
Premium seats: Zodiac Aerospace FUSIO
Premium cabins are feeling the space crunch too, with some airlines eliminating first class on select routes and adding more seats in business class.
Zodiac Aerospace's FUSIO private VIP cabin is an elegant fix for those troubled by the trend.
The FUSIO gives airlines what they want (a seat that takes up less cabin space), but it's loaded with entertainment and comfort features.
It even features a new seat setting called Zero-Gravity, which gives the illusion of floating in space.
It's likely airlines will be banking on this sort of high-tech magic as they make their future cabin choices.
It's worked for them in the past.
As Patrick Brannelly, vice president product at Emirates put it a few years ago:
"In 1992, when Emirates was the first to install personal screens on every seat for all classes, including economy class, they recorded a 20% increase in overall customer satisfaction. Why would they think that the … service is better when the only thing that is changed is the improvement of the entertainment system?"