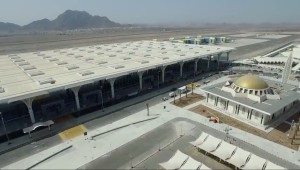 Operational Readiness and Airport Transfer (ORAT) team at Madinah Airport consists of experts & professionals from various TAV airports worldwide, the team was assembled in order to prepare new Madinah Airport for operational take-over, realistic tests, and to obtain the approval of the airport systems of the terminal which has an annual capacity of 8 million passengers.
ORAT Trial of new Madinah Airport was attended by 250 students from Taibah and Saudi Electronic universities, as well as officials from TIBAH Airports Operation Co., General Authority of Civil Aviation (GACA), Saudi Airlines, and various other governmental institutions.
While the attendants acted as arriving and departing passengers at the domestic and international terminals, all processes were implemented in compliance with the rules.
Passengers conducted all routine transactions such as security passes, boarding transactions, and passport control during arrival-departure, etc.
All electronic systems including counters, Flight Information Display System (FIDS) and Baggage Handling System (BHS), Passenger Boarding Bridges were put into operation and tested for passenger safety, service, and convenience.
Saudi Airlines supported the opening rehearsal by providing aircraft and personnel. Attended by hundreds of individuals, the trial of new Madinah Airport was completed successfully.
Eng. Sofiene Abdessalem, Managing Director of TIBAH Airports Operation Co. stated:
"We concentrate on complete readiness, not just operational readiness. Our approach is all encompassing and includes preparations to open, operate, manage and maintain a new level of world-class services. This approach facilitates the opportunity to make progressive changes and adjustments ahead of the formal opening to assure success."