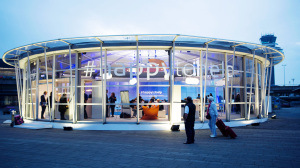 This article is re-published with kind permission of "www.airlinetrends.com".
In order to connect and engage with ever more experienced, connected, and informed consumers, who routinely ignore the commercials and ads thrown at them, airlines around the world are becoming more sophisticated in their marketing activities and are finding new ways to break through the advertising clutter.
As such, we are witnessing the birth of many creative campaigns from airlines, be it experiental, social, mobile, digital or traditional media initiatives.
Airline Marketing Benchmark Report
Airlinetrends.com and SimpliFlying jointly produce the premium monthly Airline Marketing Benchmark Report, which features the most innovative marketing campaigns recently launched by airlines around the world.
Each month's report contains 15 new case-studies that inform and inspire airline marketers and creative agencies how other airlines are making a difference with their marketing-communication campaigns.
So far, we have published 28 editions, reporting on over 400 airline case studies. Have a look at this sample report and infographic to learn more.
Clients that have subscribed to the monthly service include Etihad, Turkish Airlines, Aeroflot, Aer Lingus, LAN, Qantas, Air New Zealand, Boeing and Airbus. Learn more »
Innovative campaigns in 2014
To recap 2014, we have selected those innovative marketing campaigns launched by airlines in the past year that in our opinion do a great job engaging today's media-savvy and connected consumers.
1. KLM takes 'social service' to a new level with #HappyToHelp campaign
KLM in October took its social media-based customer service to another level with a bold campaign called #HappyToHelp.
During five days, a dedicated team scanned social media for any passenger facing travel woes throughout the world, and responded with real-time answers and support. Read article »
2. Airlines let food trucks do the promotion
Food trucks are a hot phenomenon these days, having evolved from chip stands into quality gourmet food-on-the-go. In an effort to reach today's marketing-savvy consumers, Korean Air and Lufthansa in the fall of this year were the latest airlines to capitalize on the food truck trend for marketing purposes. Read article »
3. JetBlue turns a flight ticket into a 'chain letter of human goodness'
JetBlue in November put its own twist on the concept of 'paying it forward', by awarding a free ticket to several deserving individuals involved in humanitarian efforts.
In an ongoing effort, JetBlue lets that person select another deserving recipient of the free ticket, and so on and so on. Read article »
4. Cebu Pacific uses Hong Kong monsoon season to promote flights to Philippines
To obtain the attention of media-savvy consumers out-of-home advertising has become much more creative.
In Hong Kong, which receives just 100 hours of sunshine during its monsoon season, Philippine LCC Cebu Pacific in May used the wet weather as an integral part of a clever outdoor campaign. Read article »
5. KLM lets friends and family surprise loved ones with a 'seat cover' greeting
KLM is known for surprising passengers with random acts of kindness.
The airline's latest effort – called 'Cover Greetings' – involved placing a personal message from loved ones staying at home to their boyfriend, girlfriend or relative on the headrest of their KLM aircraft seat. Read article »
6. BA high-tech neuro blanket tracks passenger's emotions
In an effort to gain more insights into – as well as promote – its onboard products and services, BA in June asked several passengers on a flight to New York to wear a headband with neuro-sensors and sleep under a fibre optic 'Happiness Blanket' to learn the behavioral response of the passengers to in-flight services. Read article »
7. American Airlines 'hackaton' challenges techies to create the next app
As technology is evolving at a rapid pace and many airlines have problems to think outside the box in order to develop innovative mobile-based services, forward-looking carriers are recognizing they better team up with the creative and technology classes to co-create new applications in so-called 'hackaton' sessions. Read article »
8. EasyJet asks travellers to recognize 10th million passenger at Toulouse Airport
Tapping into the current nostalgia trend, easyJet in May created a life-size, live version of the globally known 'Guess Who?' game to celebrate the fact that in 10 years the airline had carried 10 million passengers through the southern France airport. Read article »