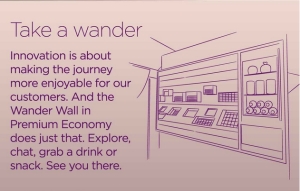 This article is re-published with kind permission of "www.airlinetrends.com".
In order to make as much as possible of the limited 'real estate' on board their aircraft, airlines such as British Airways ('Club Kitchen'), American Airlines ('Lobby Bar'), Japan Airlines' ('Sky Gallery') and China Airlines ('Sky Lounge') have been reimagining how the galley area of the premium cabin could become the domain of passengers as well after regular service is over.
Virgin Atlantic 'Wander Wall'
On a similar note, Virgin Atlantic – which is also known for its signature Upper Class onboard bar (one of the very few airlines to actually install a bar on aircraft that are not an A380) – has come up with an inventive concept on its new Boeing 787 Dreamliner that is called the 'Wander Wall'.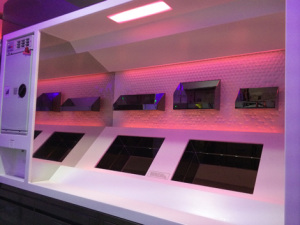 While the sit-up bar is for Business Class passengers only, those in Premium Economy on the airline's Boeing 787 are encouraged to stretch their legs and come over to the 'Wander Wall' and mingle with other passengers and crew.
The 'Wander Wall' is located in the front galley, just behind the Upper Class bar, and is a bulkhead area where Premium Economy fliers can "wander to" and help themselves to snacks, drinks and newspapers.
"It creates a space where customers can get out of their seats and stretch their legs," CEO Craig Kreeger told USA Today.
"It gives them a destination, someplace they can walk to that's not the bathroom."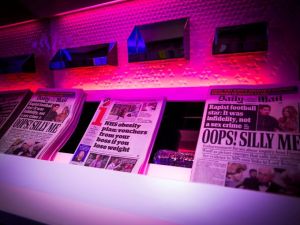 Developed to reflect the design of the Upper Class bar, the social space offers a mini fridge, water fountain and a self-serve area where passengers can help themselves to snacks and refreshments.
Reuben Arnold, director of brand and customer experience told Business Traveller: "The Wonderwall [in the galley] is a great place to stretch your legs and socialise.
On day flights there will be snacks and drinks here, there is a fridge and a water fountain; on evening flights, there will be things like chamomile tea and hot chocolate with marshmallows.
It gives a reason for people to want to go there and leave their seat."