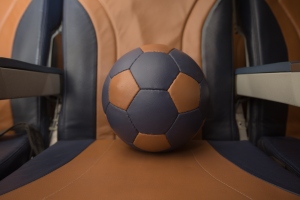 This article is re-published with kind permission of "www.airlinetrends.com".
We have reported before on 'upcycle' initiatives from airlines, with carriers such as KLM (uniforms), Finnair (seat covers, seat belts, curtains), Delta (seat covers) and Air France (life jackets) giving discarded airline interior materials a second life as stylish bags.
The benefits are three-fold:
waste is recycled, airlines add an eco-friendly touch to their brands, and many consumers like the story behind the upcycled product. Here a few more interesting recent examples.
Boeing: From carbon fiber to sports gear
Boeing and American manufacturer of sports equipment Russell Brands are working together to incorporate leftover carbon fiber from B787 Dreamliner production in Russell Athletic protective athletic gear. Composite materials make up 50 percent of the primary structure of the 787, including the fuselage and wing.
Boeing and Russell Athletic see significant benefits in using aerospace-grade carbon fiber because the carbon filaments provide a high strength-to-weight ratio and greater durability. Aerospace-grade carbon fiber is thinner, stronger and approximately 10 percent lighter compared to competitors.
An initial collaboration uses the material in Russell Athletic's new CarbonTek football shoulder pad system. The aerospace-grade carbon fiber is strong, thin, light and durable, Boeing said. In football pads it also offers increased range of motion and secure fit for the athlete's body.
Boeing says several "elite" college players from Division I universities will be wearing the CarbonTek during the upcoming football season, as well as Russell Athletic's three pro football ambassadors: Pierre Garcon, Mark Ingram and Colt McCoy.
Southwest: From seat to soccer ball
After a large-scale interior redesign of many of its B737 aircraft, Southwest found itself with an excess of 80,000 leather seat covers — enough to fill the EmpireStateBuilding.
"We had this idea of 'could we do something with this leather beyond recycling it or shredding it? Could we repurpose it?'" says Marilee McInnis, the airline's senior manager of culture and communications.
Southwest dubbed the initiative "Luv Seat: Repurpose with Purpose" and reached out to potential partners to take the used leather, but found that there were few takers.
Following the advice of a Southwest VP who grew up in Kenya, the airline started looking towards Africa for recipients of the used leather.
Rather than just donating the goods and leaving it there, the airline decided to take a more holistic approach, giving the materials to NGOs that will use them to provide job training and health education.
The main partner is SOS Children's Villages Kenya, which is providing paid apprenticeships and training to orphaned youth, who in turn make shoes and soccer balls from the leather. The shoes are given to social enterprise Maasai Treads, who distributes them as part of a campaign to fight debilitating foot parasites.
The soccer balls are donated to Alive & Kicking, a charity that uses sport to educate young people on HIV/AIDS and malaria prevention.
"It's really easy to donate and walk away. We didn't want to do that. The leather is finite, but the skills these young people will learn will hopefully take them through their lives," McInnis told The Guardian newspaper.
Emirates: From ad to bag
Following Air France's initiative last year to work together with French social enterprise Bilum to upcycle old advertising posters into stylish bags, Emirates recently turned a 208 square meter poster into over 300 quirky and reusable shopping bags.
In a project which aims to highlight Emirates' fashion forward credentials and commitment to sustainable practices, the PVC material of a giant Emirates Cabin Crew poster originally displayed outside Zurich Airport, was repurposed into a limited edition line of upcycled shopping bags with the help of Feinschliff, a socially integrative company in Switzerland which supports long-term unemployed people in returning to the labour market.
First, two industrial climbers worked for two days to carefully remove the mega poster from its display wall. The poster was then packed and sent to Feinschliff, where it took 10 workers 16 days to repurpose the enormous poster into bags. The handcraft production of a single bag took about 27 minutes, involving 13 different steps, including cutting and washing the poster, sewing on straps and assembling the material (video).
Each bag has been imprinted with the airline's 'Where will you be tomorrow' tagline. Lightweight, with an inside pocket and made of durable textile. The bags were gifted to visitors of an open air cinema screening in Zurich.