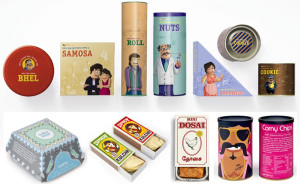 This article is re-published with kind permission of "www.airlinetrends.com".
Along with basic objectives such as protection, preservation and convenience, attractive and fun packaging appeals to consumers' emotions and brings a product alive, while clever packaging can also convince consumers to try something new just because of the way it looks.
As airlines are starting to approach the passenger experience in a more holistic way, they are also starting to pay attention to details such as the packaging of meals and drinks as an extension of their brand.
Or as Travel + Leisure magazine put it recently: "From hyper-local delicacies to iconic sweets, the best in-flight snacks deliver a sense of place, express an airline's personality—and make a tasty souvenir."
Adds Nikos Loukas of airline food website InflightFeed, "Airline food packaging needs to be fun and engage the customer during the meal service, it gives them something to think about but can also work as inflight entertainment."
Two great examples of attractive and fun food packaging can be found in India, where low-cost carriers JetKonnect and IndiGo have come up with quirky buy-on-board ranges.
JetKonnect
Mumbai-based JetKonnect, the low-cost subsidiairy of Jet Airways, has hired local ad agency Grandmother to make plane food something passengers might actually want to eat, via fun packaging that features Indian touches.
Each item on the buy-on-board menu tells a different story of the 'love' for food. For example, the packaging of the savoury pastry samosas is the tale of 'Sam' meeting 'Hosa', while a tin of nuts features 'Dr. Nutman.' The cookie packet is an ode to a robber, and features the words 'chor-police' (robber-cop in Hindi). Stories featuring each of the characters are printed on the colorful packets.
According to Grandmother, JetKonnect approached the agency to reinvent its entire line of on-board perishable and non-perishable products. Since the packaging system involved multiple products in different materials, the agency invented a story that would tie all products into one umbrella story that would engage, educate and inform, all the while making food fun and and enjoyable.
Or as Grandmother puts it: "Value is being surprised and delighted when you least expect it. Why should packaging be static? Why can't it be a story in itself? Can it make someone read before grabbing a bite?"

IndiGo
With its creative packaging, Grandmother and JetKonnect have taken a page from the playbook of India's largest LCC, IndiGo. When it launched its first flights in 2006, IndiGo worked with ad agency Wieden + Kennedy Delhi to develop the airlines' inflight menus, safety cards, sickness bags, and other in-flight packaging designed to entertain passengers with a mix of functionality and fun.
W+K Delhi spokesperson Bhavana Lal told airlinetrends.com that "IndiGo believes that flying should be an experience which is fun, hassle free and cool. A very big part of the inflight experience being food, which we feel gets neglected by most airlines – especially in the low-cost category, as they treat passengers as if they are not special – with food mostly presented in less than appetising tin foil. Through our food packaging, we talk about local insights and pop culture references, which people are relevant, to create something special that people will love to read, keep and carry."
Every food item served on board comes in an eye-catching packaging and has a short description which tells the buyer what it is. For example, a sandwich that contains a lot of chilly is served in the style of a matchbox and the samosa packaging it comes in its own newspaper packet, "like any self-respecting Indian street food."
And IndiGo's triangular paid-for 'Airwich' boxes, in the airline's words, "double as a sandwich box and a new medium to feature interesting stories and cool illustrations that make meals enjoyable beyond a few bites."
Indigo has also been the first Indian airline to introduce tin packaging which can be re-used, and which also acts as a collectible for die-hard brand loyalists. Says W+K's Bhavana Lal, "The reusable cookie tins which have since become an iconic part of IndiGo. People love to collect and take home these colourful tins."