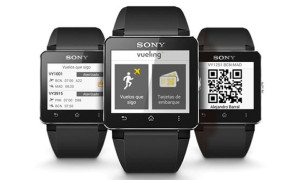 This article is re-published with kind permission of "www.airlinetrends.com".
Many of today's airline product and service innovations contain a major digital component, as the rapid adoption of smartphones and tablets, the possibility to be connected anywhere and anytime, and the self-service mindset of connected travellers, have created a huge momentum.
This year, wearable tech devices are joining the digital revolution, with Virgin Atlantic's six-week trial – featuring Google Glass and Sony SmartWatch 2 devices – in its Heathrow lounge creating a huge wave of publicity for the airline.
Commenting on the launch of the Virgin Atlantic trial, Jim Peters, chief technology officer of SITA stated that "2014 is shaping up to be the breakout year for wearable technology." In fact, market forecaster Canalys estimates that worldwide shipments of smart watches will exceed 5 million unit shipments in 2014 – growing tenfold compared with the 500,000+ units shipped in 2013 – as a new generation of devices from Apple, Google, Microsoft, Samsung and others are launched this year.
Vueling x Sony
Spanish hybrid LCC has joined Virgin Atlantic as an early adapter of wearable technology and together with Sony has launched the world's first application that allows passengers to "carry both their boarding pass and flight information on their wrist," as both companies put it.
Conceived for Sony's SmartWatch 2 intelligent watch, the Android-based app – due to launch on Google Play from the end of the month – allows passengers to display a 2D boarding card barcode on the watch's display, as well as displaying details of upcoming flights – similar to the functionality offered in many airlines' smartphone apps.
Says Sandra López de Santiago, Marketing Director for Sony Mobile España, "This agreement, in which we have incorporated a new function into the already wide range of applications for SmartWatch 2, demonstrates how 'wearables' are becoming an important lifestyle tool for the consumer."
The Vueling app will be one of around 300 apps in the Google Play store that are currently available for the Sony SmartWatch 2, which itself costs euro 189.