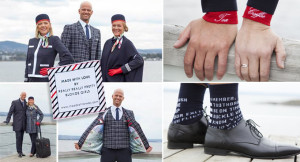 This article is re-published with kind permission of "www.airlinetrends.com".
Airlines have long used items such as onboard catering and crew uniforms to add a local touch to the passenger experience, be it often in a fairly traditional way. In recent years, however, several airlines in Europe have teamed up with local designers and brands to reinterpret elements of their inflight service in a more contemporary way.
A well-documented example is KLM's 'Internationally Dutch' brand positioning, which has seen the airline collaborating with well-known Dutch designers such as Victor&Rolf, Marcel Wanders and Hella Jongerius for respectively amenity kits, tableware, seat design and fabrics. According to KLM, customers have indicated that they appreciate KLM's typically Dutch character, so it decided to embrace Dutch Design.
Finnair, meanwhile, has raised its national profile through a collaboration with Finnish design house Marimekko for the design of textiles and tableware that is based on Marimekko's iconic patterns. Commenting on the partnership, the airline said that "Our goal is to become a design airline and Finnair aircraft will become roving ambassadors of timeless Finnish design and creativity, giving our customers a special experience when they fly with us."
Another forward-looking collaboration comes from Europe's third-largest LCC, Norwegian, which has teamed with local hipster brand 'Moods of Norway' for the design of the uniforms for its crew on the airline's long-haul low-cost flights.
Moods of Norway
In May 2013, Norwegian started its long-haul operations between Oslo, Stockholm and New York, Bangkok and Fort Lauderdale. As a part of the new service the carrier dressed the crew working on the long-haul routes with brand new uniforms designed by Moods of Norway.
Known for its quirky sense of humour, the Norwegian clothing brand bills itself "a happy brand" and has expanded internationally to Japan, Iceland and the USA.
Commenting on the collaboration, Moods of Norway designers Simen Staalnacke and Peder Børresen said  "It's a great honor to put our signature on Norwegians new international flights with our 'happy clothes for happy crew'. We want to recreate some of the glamour and style from the golden airline era in the 60s, and at the same time add some of the characteristic, joyful Moods of Norway design through details and colors."
Navy blue with a twist
Classic navy blue recurs as the main color throughout the collection, and combined with Moods of Norway's distinctive checkered pattern and red and white details based on Norwegian colors.
Taking a fresh view towards the design of Norwegian's uniforms, Moods of Norway placed messages on the clothes, such as tags that say "Made Just for You by Tall Blond Hunky Guys" and have trims that read "Happy Clothes for Happy Crew."
Other details include "coffee" or "tea" embroidered on jacket sleeves and "come fly with me" on the inside of the jacket collar. On the socks for male crew, a 'check list' reminds the crew to 'toothbrush, be on time, buckle up, know your exits, enjoy the flight, have fun'.
Flight attendants also have scarves and jacket linings with illustrations of rolling hills, farm animals, skyscrapers and a terminal with a "Super Duper Airport" sign.
Says Norwegian CEO, Bjørn Kjos, "The design is funny and modern, and Moods of Norway has, similar to us, gone abroad to an international market, and we both see the significance of branding ourselves in a way that stands out."
Air Canada 'Rouge'
A similar casual uniform style can be found on Air Canada's low-cost sister airline, Rouge. Positioned as a much more leisure-oriented airline compared with Air Canada, Rouge says it aims to deliver a relaxed and informal onboard experience, with crew trained in customer service at The Disney Institute and wearing casual flight attendant uniforms featuring burgundy tops and grey pants and  shoes from Canadian designer John Fluevog.
According to Renee Smith-Valade, VP customer experience of Rouge, the outfits came together in just four months by taking pieces that already exist on the market and having certain elements customized to suit the Rouge brand.