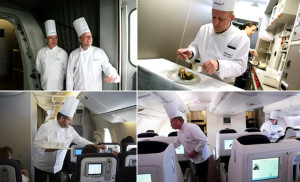 This article is re-published with kind permission of "www.airlinetrends.com".
Food has become a new battleground for airlines with almost any major airline collaborating with a high-profile Michelin-star chef in order to lift the quality (and add credibility) of their inflight menus in Business and First.
Culinary theater
Besides upping the ante when it comes to the quality of food served to their premium passengers, airlines such as Turkish Airlines, Austrian (both served by DO&CO), Etihad and Gulf Air employ so-called Sky Chefs in order to provide an extra dimension to the inflight dining experience.
Although the limitations of the onboard galley equipment allows onboard chefs to prepare little other than for example a fresh omelet egg for breakfast, they can customize the meals to passengers' preferences, add a little culinary theater when serving the meals, and are more experienced in the precise handling of the galley equipment.
Micro events
Estonian Air, meanwhile, a few years ago came up with an innovative twist of the on-board chef concept.
During one year, the airline each month asked a different Estonian restaurant to prepare a Business Class menu with the restriction that all participating restaurants had to stay within the same budget that Estonian Air reserves for its catering company, LSG Sky Chefs. Furthermore, each restaurant chef personally presented his or her menu to passengers on-board a monthly 'gourmet flight'.
On a similar 'experiential' note, Virgin Australia in October 2013 surprised passengers on board a flight from Sydney to Perth with a traditional tiered-tray high tea service at 40,000 feet, designed and served by the airline's resident chef, Luke Mangan.
Air France, meanwhile, had Michelin-starred French chef Michel Roth unveil his new gourmet creations to Air France Business class customers on board a Paris-Montreal flight in early 2013 (video here).
The airline has also listed Colin Peter Field, head bartender at the famous Hemingway Bar of the Ritz Hotel in Paris, to mix inflight cocktails for customers in La Première and Business class in November 2013 in what it called "Bar Hemingway in the Sky."
This collaboration will be continued in March of this year on an Air France flight from Paris to Tokyo, with additional destinations in 2014 to include Hong Kong, Sao Paulo, Shanghai, Moscow, Singapore, and Seoul.
Air France x Servair 'chef onboard'
At the end of November, Air France and its catering subsidiary Servair launched a new initiative which is aimed to improve the culinary experience for passengers, gather direct feedback for Servair and train cabin crew on the spot.
Once a week, a chef from Servair boards a long-haul Air France flight and welcomes passengers in First and Business when they enter the aircraft. During the flight, the chef introduces passengers to the à la carte menus – current menus in First and Business have been created by respectively French Michelin-star heavyweight Joel Robuchon and winner of the Bocuse d'Or 2013 Thibaut Ruggeri – and help passengers make their choice should they wish to.
The chef also explains how Servair adapts to the constraints of airline catering on a daily basis and works together with the crew in the galley for heating and plating of the dishes. After dinner the chef makes a round in the cabin to gather passenger feedback on the dishes served. When new menus are added in Economy and Premium Economy, the chef also presents these to passengers travelling in these classes (video of the chef onboard service here).
In addition, beside adding a gourmet touch to the dining experience and collecting feedback, the chef onboard initiative is also a way for Air France and Servair to pass on the chef's expertise and know-how to the crew, to ensure dishes are presented in an optimum way and to ensure a more consistent quality of service.
Says Michel Quissac, Servair's Corporate Chef,
"The special flights are a great opportunity to discuss with the crews as for instance the chefs can give them deeper explanations on the catering processes or the preparation of the meals. This is also a unique opportunity to get some direct feedback from the flight attendants, or to give them more concise explanations, for example how to set the ovens for a better result, depending on the meals served (e.g, fish, meat, chicken), or depending on the oven load factor."
So far, about ten Servair chefs have been on-board Air France 'culinary flights' to destinations such as New York, Shanghai and Abidjan (Ivory Coast) and the initiative will continue throughout 2014.