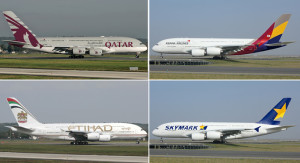 This article is re-published with kind permission of "www.airlinetrends.com".
As more airlines are bidding farewell to the last 747 in their fleet and opt for the 777-300ER or the A380 as their flagship product instead, this year will see four more airlines welcoming their first superjumbo.
The A380 provides 50 percent more floor space compared with the Boeing 747, but airlines on average install only 35 percent more seats, using the extra space for roomier cabins and customized areas. Well-documented examples of 'A380 extravaganza' include the onboard First Class shower on Emirates' A380 and the Absolut Vodka-branded lounge and inflight duty free store on Korean Air's A380.
10 airlines currently operate an A380
As of end of January 2014, 16 airlines have ordered 304 aircraft of the passenger version of the superjumbo. Currently 123 A380s are in operation worldwide (graph here) and 10 airlines have taken delivery of an A380 so far: Singapore Airlines (2007), Qantas, Emirates (2008), Air France (2009), Lufthansa (2010), Korean Air, China Southern (2011), THAI Airways, Malaysia Airlines (2012), and British Airways (2013). With a total order of 140 A380s, of which 44 have been delivered, Emirates accounts for nearly half of the orders.
This year, four more airlines will receive their first A380, including three carriers who regularly show up in the various 'best airlines in the world' rankings: Qatar Airways, Etihad, Asiana, plus Japanese hybrid low-cost carrier Skymark. These airlines will be followed by the final round of first A380 deliveries to Transaero in 2015, while orders at Hong Kong Airlines (2015) and Virgin Atlantic (2018) seem questionable. At the same time, Turkish Airlines reportedly will add four A380s to its fleet this summer for operation on slot-constrained routes to China.
Asiana
Becoming the eleventh carrier to add the A380 to its fleet (just before Qatar Airways), Korea's Asiana Airlines will introduce its first superjumbo in June this year on regional routes, before deploying the aircraft on the Seoul – LAX route in July or August. Asiana will take delivery of a total of six A380s — two in June of this year, two next year, and two in 2017.
Asiana's A380 will be configured with 12 'OZ First Suites' and 66 staggered 'Smartium' Business seats on the upper deck and 417 economy seats (106 on the upper deck and 311 on the lower deck), carrying a total of 495 passengers.
Qatar Airways
Australian Business Traveller reports that Qatar Airways will take delivery of three A380s in June, with the superjumbo set to become a posterchild for the opening of the new Doha airport. The airline's A380 launch routes will be from Doha to London and Paris starting in the early third quarter of this year.
Qatar's A380 will include a small First Class cabin of eight ultra-luxe suites using an all-new design and the Business Class cabin will feature 52 full-flat seats, identical to those already seen on Qatar's Boeing 787 fleet.
Both First and Business class will be located on the top deck, along with a small Economy cabin and a lounge to separate travellers in the cheap seats from the premium passengers. The lower deck will be allocated entirely to Economy class, with total count of 517 passengers across all three classes.
Etihad
Etihad has 10 A380s on order with first deliveries scheduled for late 2014. The aircraft will have a  three-class layout (First, Business, Economy), but Etihad has yet to share any details on the exact configuration and type of seat featured. Etihad will use the A380 for routes between Abu Dhabi and Sydney and Melbourne in late 2014, followed by London and New York in a later stage.
Skymark
Hybrid low-cost carrier Skymark – Japan's third largest airline – turned heads in early 2011 when it announced an order for six A380s which will feature only 394 seats in a premium two-class configuration: 114 angled lie-flat Business seatss on the upper deck and 280 Premium Economy seats on the lower deck (and no Economy section). Skymark will take delivery of its first A380 in August 2014 and has planned Tokyo Narita and New York as its first destination, possibly followed by London and Frankfurt.
Skymark A380 will have the least-dense A380 configuration of any A380 operator, using its low-cost base to offer a premium experience at market rates. Analysts however question the viability of Skymark's ambitious A380 plans, due to the lack of a feeder network and limited international brand recognition.
Future of the Airbus A380
Despite the fact that passengers love flying on the A380, the aircraft has proved to be difficult to sell to airlines. The main reason is that the airline industry is moving towards large twin-engined planes for long-haul travel, such as the Boeing 777 and Airbus' own A350, which use far less fuel then the four-engined A380.
Air Insight summarizes the dilemma well: "The new technology aircraft now entering, or soon to enter service, – 787, A350, and 777X, all offer competitive seat-mile economics to A380, and much lower aircraft mile costs with lower risk, as an airline has fewer seats to fill to break even. Unless there is a compelling reason, such as the inability to gain adequate take-off or landing slots at a congested airport, airlines prefer to fly smaller aircraft that they know they can fill on a daily basis."
Or as Time Magazine puts it nicely: "For operators, the A380 was launched in 2000 to solve a problem that never materialized. Planners perceived an air travel corridor that was going to be so cramped with traffic that jumbos would seemingly have to play a role."
More efficient engines, higher seat-density
In a response, Airbus reportedly is nearing a decision to offer its A380 jet with more efficient new engines, and possibly a stretched version, for delivery around 2020 in order to make the aircraft more attractive to buyers.
Airbus EVP of programmes Tom Williams told FlightGlobal that the company's more immediate focus for the four-engined aircraft is to improve its productivity through the use of higher-density seating configurations, as "A lot of airlines' layouts (on the A380) are probably quite generous and now probably they're thinking about how they can make more productive use of the real estate."
Although most early buyers splashed out on space and comfort, positioning the A380 as a high-end option, Airbus is now pushing airlines to view its superjumbo as a high-density workhorse rather than a luxury flagship as it targets orders from mass-market carriers in countries such as China, Japan and Indonesia.
Bloomberg reports that the planemaker has begun pitching the double-decker as carrying 558 people, 33 more than the average stated for the past six years, and could add a further 30 seats by introducing 11-abreast seating in coach class. It is also exploring ways of making the setup more responsive to seasonal variations in traffic.
The A380s main customer, Emirates, has reportedly been working on a two-class configuration for its A380 that would eliminate First Class and have 604 seats (instead of the current 489 and 517 seat configurations), but  the latest news is that these plans have been dropped.
Meanwhile, Russian carrier Transaero is planning to install 652 seats on its four A380s in three classes of service. Besides 12 First Class suites and only 24 full-flat seats in Business, the airline will install a whopping 616 seats in Economy (31 inch seat pitch), which would give Transaero's A380s the highest seating capacity of any airline currently flying the jet.