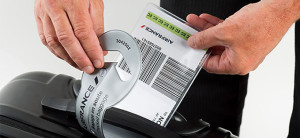 This article is re-published with kind permission of "www.airlinetrends.com".
As part of the ongoing trend to let passengers do the pre-flight work themselves, such as flight booking, check-in, luggage check-in, passport control and boarding – as well as to shift as much of the flight preparation to passengers at home and/or office (and save time and stress at the airport) – Air France has become the second airline (following Iberia's introduction in July 2013) to let passengers print their own luggage tags.
The option to print a baggage tag at home is currently available in France only and throughout 2014 the service will be introduced around the world.
How it works
After having checked in online at airfrance.com, passengers can print their baggage tag on a standard A4 sheet of paper up to 30 hours before their flight.
They then fold the paper in four and insert the printed sheet in a reusable plastic tag holder which is available at the airport, attach the tag holder to their bag and leave it at Air France's EXPRESS baggage drop-off counter starting from two hours before their flight departs.
Passengers departing from Paris-Orly or Nice airports can drop their bags at the self-service baggage drop-off counter by scanning their boarding pass and placing their bags on the baggage belt.
Digital bag tag
Air France's 'print your lugagge tag at home' service is a likely first step towards the introduction of a digital bag tag in the future.
In the second half of 2013, British Airways has tested an electronic baggage tag which removes the need for a new paper tag each time a traveller flies. Passengers could update the digital suitcase tag to display their flight information by holding their smartphone over the tag after they have checked in. BA has tested 100 prototypes of the device on corporate flights between London Heathrow T5 and Seattle in a month-long trial during August 2013.
Employees from Microsoft using Nokia Lumia Windows Phones have been selected to take part as the first passenger guinea-pigs, using a specially adapted version of the British Airways app.
BA says that eventually a consumer version will be available for use on flights worldwide. Passengers will have to purchase the digital tags from BA, but as yet no price has been announced.
BA's trial followed Qantas' introduction of its 'Q Bag Tag' in mid-2010. The airline provided its frequent flyers with two personalised electronic RFID-embedded tags that are linked to their loyalty account and hold the passenger and current flight information. The electronic tag replaces the printed baggage tag for checked luggage, and all passengers have to do is deliver their Q Bag-tagged luggage at a self-service bag drop point.