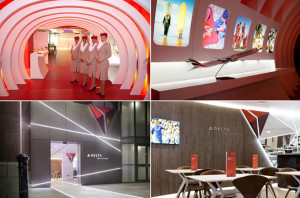 This article is re-published with kind permission of "www.airlinetrends.com".
Soccer's huge popularity in much of the world and its fast-growing following in Asia have made it a magnet for international carriers looking to raise their profile.
Over the last few years, airlines from the Gulf Region, in particular, have been using using soccer to build their brand names and reach a broad audience.
Emirates has been sponsoring major soccer teams such as Arsenal, Paris St Germain, AC Milan and HSV in its major markets of the UK, France, Italy and Germany, while the airline at the end of May signed a five-year shirt sponsorship with Real Madrid.
Meanwhile, Etihad has been the main sponsor to Manchester City since 2009, while Qatar Airways shows up on the jerseys of FC Barcelona.
Emirates 'brand space'
As part of their sponsorship of Real Madrid, Emirates at the end of September 2013 also opened a branded VIP Lounge at the team's Santiago Bernabéu Stadium.
The 375 sqm lounge, modeled on the cabin design of a Boeing 777 – which currently serves the Dubai-Madrid route – can host around 200 guests on match days. Interior features such as windows and space illumination aim to mimic the experience of walking through an Emirates aircraft, and the 'brand space' features imagery of Emirates' on-board experience, global network, and promotional images.
Expected to host over 6,000 guests every season, the Emirates Lounge is open to invited guests an hour before and after matches and visitors can relax before, during and after games in comfortable seats, consume food and beverages and watch the action on large plasma screens.
Delta 360˚ lounge at Stamford Bridge
The Emirates Lounge at Real Madrid's Santiago Bernabéu Stadium follows a similar initiative by Delta Air Lines at London football club Chelsea.
Following Delta's announcement to become the official airline of Chelsea FC, the airline in September 2012 opened its first ever SKY360 lounge outside the U.S. at Chelsea's Stamford Bridge home stadium in London.
In the lounge, the airline hosts VIP guests of official Delta partners on match days, providing a Delta-branded experience through features such as airline-style tickets that invite attendees to 'check-in' for matches, while a LED-lit runway leading guests to a dedicated entrance to watch football games.
The 108 sqm SKY360 lounge includes a dining area and full service bar and is located in the attached Millennium & Copthorne Hotel at Stamford Bridge. Accessible for hotel guests and visitors on non-match days the lounge is expected to receive 250,000 visitors each year.
US baseball teams
Delta's partnership with Chelsea FC resembles similar initiatives by the airline in the U.S., launched as part of an ongoing marketing effort to align with sports, music and film entities that encapsulate a passionate customer base.
In 2010, Delta launched its SKY360 lounges concept to let customers sample the Delta product in a non-aviation setting at home venues of sports teams that Delta sponsors, such as New York's Yankees and Mets baseball teams, the Atlanta Braves and the Minnesota Twins in Minneapolis.
Besides regularly inviting its most valuable frequent fliers to its SKY360 lounges (other SkyMiles members have access to discounted tickets to watch the game from the Delta-branded areas), the Delta SKY360 lounges are also meant as a 'brand space' for Delta to target more affluent baseball fans (those who purchase the premium tickets that give access to the Delta-branded areas).
For example, the SKY360 areas feature kiosks where visitors can sign up for Delta's SkyMiles frequent flier program.