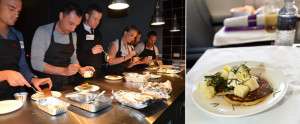 This article is re-published with kind permission of "www.airlinetrends.com".
In the past few years, Virgin Australia has transformed from a cheap and cheerful low-cost carrier to a 'no-frills chic' airline in order to appeal to more travellers in Australia, especially those travelling on business.
On the catering front, the airline has teamed with top Australian chef Luke Mangan as its consulting chef. The well-known restaurateur is responsible for all menus served onboard the airline and in its lounges, and came on board several years ago after he cooked for Richard Branson on Branson's Caribbean retreat, Necker Island.
Test Kitchen
Since May of this year, Mangan is offering customers the chance to sample ideas for new Virgin Australia airline meals at his new headquarters in Sydney. Earlier this year, Mangan opened its 'Headquarters by Luke Mangan' in a former warehouse in trendy Dank Street in Sydney.
The building includes a mix of a head office, warehouse, the 'Mojo' wine and tapas bar, a new formula called 'Test Kitchen', and a dining and functions space all under the same roof. The large open space is fitted with polished concrete floors, industrial furnishings, hanging light bulbs encased in cage-like structures and lofty ceilings stacked with crates of Mangan's branded products and is inspired by a typical New York style warehouse.
As the name suggests, the Test Kitchen is an open plan test and development kitchen to develop and test new recipes for Mangan's roster of national and international restaurants. It is here that guests will randomly be given the chance to eat airline meals and vote on them.
At the time of launch, Narelle Kellahan, general manager of Luke Mangan said. "We're going to be using the Test Kitchen at Dank Street to test out new recipes and food concepts for the airline. We're having an aircraft oven installed, so that we can make sure the testing is as accurate as possible, even chocking the oven so that it's on the same slope as an aircraft on take-off. This will give a very accurate view of what happens to the food through its journey to the guests table. As the whole warehouse is a combination of foodie concepts, we will be able to use the ideas and suggestions of our Mojo kitchen team, along with the feedback from our guests in the bar from time to time, to help with the design of dishes for inflight."
Virgin Australia Crew training
Master class sessions – which can be attended on a voluntary basis by Virgin Australia's cabin crew – are also held at the headquarters to give them the opportunity to learn the flavours and thought process behind each dish, along with a range of preparation skills such as the best way to match wines and present dishes. The flight attendants are also asked to plate up the food and to sample several wines and describe them as they would to passengers, and are then judged on their presentation.
As part of its move upmarket, Virgin Australia last year also launched a service training program called called Elevate, in which crew learn food and wine appreciation, grooming and body language.