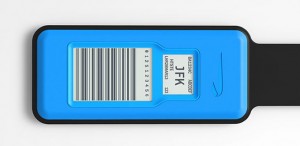 This article is re-published with kind permission of "www.airlinetrends.com".
British Airways will start testing an electronic baggage tag which could remove the need for a new paper tag each time a traveller flies and speed up passenger check-in times at the airport.
Passengers can update the digital suitcase tag to display their flight information by holding their smartphone over the tag after they have checked in.
The tag will then be automatically programmed with a unique barcode containing flight details and an easy-to-see view of their bag's destination. The tag is then scanned where bags are dropped off.
British Airways estimates the new system can cut baggage drop-off times to about 35 seconds from the 3 minutes it routinely takes now.
Paper tickets will still be offered, although BA says the electronic tag is designed to require only a hand-held scanner so the service can be provided at any airport. The tags will be usable only on BA flights.
The hi-tech tag will initially be subjected to an internal trial which begins in August, before it is extended to a customer trial next year.
The electronic tags have been specially developed by BA in partnership with Densitron Displays, and Designworks Windsor, while Heathrow Airport is providing help with the trials.
Says Frank van der Post, BA managing director, brands and customer experience, "This is a fantastically simple, yet smart device that gives each customer the choice to have their own personalised electronic baggage tag that changes with the swipe of a smartphone – every time they fly.
Qantas 'Q Bag Tag'
BA's trial follows Qantas' introduction of its 'Q Bag Tag' in mid-2010. The airline provided its frequent flyers with two personalised electronic RFID-embedded tags that are linked to their loyalty account and hold the passenger and current flight information.
The electronic tag replaces the printed baggage tag for checked luggage, and all passengers have to do is deliver their Q Bag-tagged luggage at a self-service bag drop point.
The Q Bag Tag also makes it easier to locate a bag and remove it from an aircraft if needed in a few minutes – a process which previously led to lengthy delays with printed bag tags.