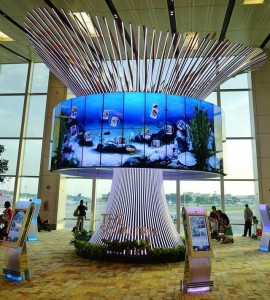 This article is re-published with kind permission of "www.airlinetrends.com".
Singapore's Changi Airport has just unveiled an interesting art installation, called The Social Tree, which plugs into a trend dubbed "Life Caching" by trendwatching.com
At close to nine meters tall and 11 meters in diameter, The Social Tree is surrounded by eight touch-screen photo booths that enable travelers to 'attach' their photos onto the colorful and animated crown of the structure, which is made up of 64 giant 42-inch high-definition screens.
Together, the screens offer a 360-degree display of various animated backgrounds including a mystical forest, a deep sea environment, and the Singapore skyline.
Travelers can also post photos and videos taken at the booths on their social networking profiles.
Passengers are encouraged to store their photo/video memories with a unique login & password combination, inviting them to become part of Changi Airport's history by leaving behind a photo or video of themselves which will be kept for decades to come.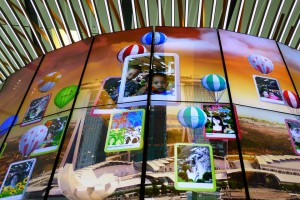 Travelers – and their families – can retrieve and re-live their digital memories at Changi Airport from this "memory capsule."
Comments Yeo Kia Thye, SVP for Airport Operations, Changi Airport Group,
"We live in a world where digital communities form part of our everyday life. We see hope to see The Social Tree grow into a digital community at Changi Airport, offering a connection over time for our passengers who may pass through Changi many times in their lives. It also provides a social element for our more than 52 million passengers each year to reach out to family and friends."
The trunk of The Social Tree is made up of 100 aluminum bars that uses LED lighting, producing an array of colors.
The installation is located at the center of Terminal 1, immediately after the immigration counters.
The Social Tree follows the upgrading of Singapore Changi's Terminal 1 last year which saw the installation of a so-called 'Kinetic Rain' sculpture in the Departure Hall of T1.