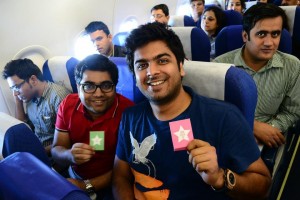 This article is re-published with kind permission of "www.airlinetrends.com".
In just a few years, low-cost carrier IndiGo has become India's largest domestic carrier by securing nearly 30 percent of the local market.
IndiGo's popularity with Indian passengers is based on its 'no-frills chic' approach towards flying. According to IndiGo President Aditya Ghosh, the airline's philosophy is "to make travel as hassle-free as possible — low-cost but high quality — and that's why we are popular both with budget travellers and high-level corporations."
IndiGo has worked with agency Wieden + Kennedy building a new, cool airline brand from scratch. Besides quirky advertising, everything from the design of the safety instruction card and sickness bag, to the availability of a boarding ramp instead of a staircase, to the packaging of in-flight snacks were aimed at being more engaging.
For example, IndiGo's triangular paid-for 'Airwich' boxes feature interesting stories and fun illustrations to offer passengers something to read when having their meal
IndiGo 'Food Fight'
In another innovative effort to promote its buy-on-board offering, IndiGo and Wieden + Kennedy in late 2012 organized a food tasting in the sky, dubbed #IndiGoFoodFight.
Held on a single day on IndiGo flights across major routes, over 1,000 passengers were surprised with boxes of free food samples containing the contenders for the airline's new buy-on-board menu. Passengers were asked to vote for their favourite, with the winner making it on-board as the "Passenger's Choice."
Or as the airline putsit more dramatically: "It's the ultimate showdown at 35,000 feet. From the feather-weight division we have Lemon Chicken Sub vs Curried Chicken Sub vs Chicken Jhatka. And in the veggie-weights, introducing Veg Junglee vs Tomato-hummus vs Paneer-mushroom. May the best sandwich win!"
The Veg Junglee Sandwich and Curried Chicken Sub turned out to be the clear favourites among passengers and are now featured on the IndiGo menu. A video of the event can be found here and images here.