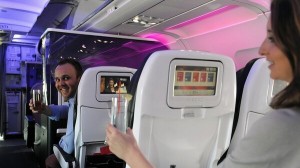 This article is re-published with kind permission of "www.airlinetrends.com".
Virgin America's in-flight entertainment and communications (IFEC) platform, known as Red, may very well be the world's most feature-rich IFEC system.
For example, the high-definition touch screens on each seat-back feature live satellite television, the first ever seat-back digital shopping platform, an open tab service, and interactive Google Maps with terrain view that tracks the flight's location.
Passengers can also use the system to chat with other passengers, play 3D games such as Doom, offset carbon emissions for their flight, or purchase snacks, meals, and beverages from their seats via Red.
Flight attendants receive the orders via a tablet device and bring the ordered items to the seat.
Seat-to-seat delivery
The latest innovative feature Virgin America has added to the Red platform is a 'seat-to-seat' delivery service (images here and here), which lets passengers use their seat-back touch-screen to send a cocktail, snack or meal to a fellow traveler on-board their flight using a digital seat map.
Similar to the 'open tab' function on Red (passengers only have to swipe their credit card once per flight to make purchases), this is a smart way to increase the on-board sales by adding an element of fun to the experience.
"Get Lucky"
In true Virgin style, the airline is playing the flirting card to promote its new seat-to-seat delivery service, encouraging passengers to "send an in-flight cocktail to that friendly stranger in seat 4A – and then follow up with a text message using the seat-to-seat chat function also on Red."
Virgin Group founder Richard Branson also helped introduce the new seat-to-seat feature with a tongue in cheek video called "Sir Richard Branson's Guide to Getting Lucky at 35,000 Feet."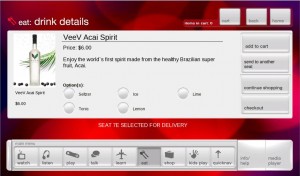 As part of the launch of the new feature, Virgin America is kicking off a Facebook promotion inviting users to share how they are using or would use the new 'seat-to-seat' feature – including their best in-flight pick-up lines.
Social media submissions are being collected from April 22nd through May 22nd.
The top five entries will be voted on by Virgin America fans with the top two entries scoring a trip with Virgin America to Las Vegas, which is the airline's latest destination.
For inspiration, see these hilarious "airplane seat-to-seat chat pickup lines" published by Virgin America a few months ago.