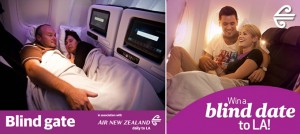 This article is re-published with kind permission of "www.airlinetrends.com".
To promote its London to LA route, as well as its innovative Skycouch seat, Air New Zealand UK has launched a Valentine's Day campaign which uses its own flights to pair two strangers together on a blind date.
Named 'Blind Gate', the campaign invites those looking for new love to sign up for a chance to compete in a blind date contest, with two lucky couples flying from London to Los Angeles on ANZ.
The airline is collaborating with UK newspaper The Guardian, who had those interested in the contest sign up on the weekly 'Blind Date' section of its website. On Valentine's Day, ten shortlisted contestants will gather at a specially built TV studio at Heathrow's T1 to take part in the blind-date contest.
This contest consists of questions that promote elements of Air New Zealand's in-flight experience, for example contestants will be asked what drinks they might order or what movies they might watch on their journey.
Each contestant has to bring a passport and a packed suitcase, and the two lucky couples chosen – one gay and one straight – will board an ANZ flight to LA as soon as the winners are announced. The couples will be seated on Air New Zealand's Skycouch, a row of economy seats that folds into a 2-person couch, and which is also known as "cuddle class."
To see how they get on, a camera crew from the Guardian will also document and follow the couples' holiday to LA, including coverage of the flight on the Skycouch, for a five-episode series on the campaign website and for a feature in The Guardian's Weekend edition.
ANZ's "Blind Gate" initiative is not the airline's first forray into inflight matchmaking.
In 2009 the airline declaring that one of its regularly scheduled 12-hour overnight flights from Los Angeles to Auckland would be transformed into a special Matchmaking Flight, complete with its own social media networking site, pre-flight airport party, in-flight hijinks and a ticket to a gala post-flight mixer attended by 150 single Kiwis.