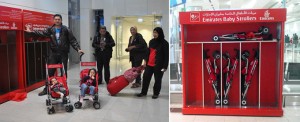 This article is re-published with kind permission of "www.airlinetrends.com".
Airlines from the Gulf Region tend to make an extra effort to accommodate passengers travelling with young children.
Witness for example Gulf Air's Sky Nannies who offer help with boarding and disembarkation and keep a watchful eye on children during the flight should parents doze off or just want to get engrossed in a book or a movie.
A Sky Nanny is also present in Gulf Air's lounge at Bahrein Airport. On a similar note, Etihad's 'Family Room' at its Abu Dhabi hub, has nannies meet and greet families travelling with children at the lounge entrance before taking the kids to the family room, where they can play with toys, read books and watch television all under supervision of the nannies that have professional training in childcare and first aid.
Emirates Stroller Service
Meanwhile in Dubai, Emirates – which sees the majority of its passengers transfer to another flight at its hub – for several years has been offering a complimentary baby stroller service for passengers arriving and transiting at Dubai International Airport.
The baby strollers are available to passengers on arrival at every Emirates gate at the airport.
The colourful strollers, easily identifiable with their prominent Emirates branding, are manufactured by MacLaren and include a disposable hygiene seat cover.
The baby strollers are placed in specially-marked cupboards located at arrival gates for passengers disembarking their Emirates flight so they can conveniently help themselves to a stroller. Emirates baggage staff are on hand to ensure these strollers (including twin versions) are available round-the-clock and that the cupboards are always stocked.
For passengers ending their journey in Dubai, strollers can be returned at designated areas in the arrivals baggage hall and for passengers in transit, strollers can be deposited at their next departure gate. According to Emirates the service is particularly welcomed by passengers whose own baby strollers were checked-in at the point of origin and unavailable for use until they retrieve their luggage from the arrivals baggage hall.
A drawback of the service, however, seems to be that passengers can't take the strollers passed a certain point at the gate area which is clearly marked by a sign. As one passenger comments: "You might be best off keeping your pram and checking it at the gate. The Emirates ones you have to leave when you enter the gate area, and sometimes you end up sitting there for quite a while."
While Emirates was the first airline to introduce free baby strollers at Dubai Airport a few years ago, the service is now also offered by Etihad at its Abu Dhabi hub.
Furthermore, airports such as Singapore Changi, Paris Charles de Gaulle and Copenhagen Kastrup also offer more sturdy strollers.