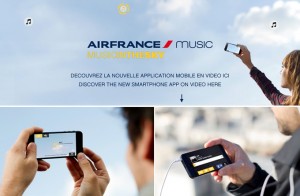 This article is re-published with kind permission of "www.airlinetrends.com".
Since the launch of its 'Air France Music' initiative in 2010, the airline has built a reputation for offering passengers and its social media fans and followers exclusive musical content such as exclusive podcasts and 'on air' playlists of the music it play on board its aircrafts.
In November 2010, the airline also took three bands – The Shoes, Monsieur Monsieur and Alb – on an Airbus A380 flight from Paris to Tokyo, with each act composing and recording a new track while in the air.
According to Air France's SVP Corporate Communications Adeline Challon-Kemoun, "music plays a central role in brand communication" for the airline, with the app being a way to "evoke the relaxed serenity of air travel" through music.
Following its 'Side by Side' Facebook iniative earlier this year, Air France recently launched its latest musical initiative, a global mobile music discovery app.
Air France – Music in the Sky
Air France 'Music in the Sky' is an app for iPhone and iPad that allows users to 'capture' new tracks by pointing their devices upwards to the sky. The app uses an augmented reality element so that songs show up on the screen as little dots with music notes inside them. Users can then capture a song and add it to their playlist.
'Music in the Sky' also features different tracks in each country, so frequent travellers can discover more music through the Air France Music mobile platform. Additionally, users can test their music knowledge on the app to win "other unreleased tracks, concert tickets or even air tickets" by finding hidden games in the sky during certain times of the year. Video of the 'Music in the Air' app here.