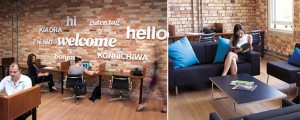 This article is re-published with kind permission of "www.airlinetrends.com".
Finding a place to work comfortably if their flight leaves late in the evening is an uncomfortable situation for many passengers, especially when there is no late checkout available at the hotel.
Air New Zealand Koru Central
Australian Business Traveller reports that Air New Zealand (ANZ) offers its top-tier frequent flyers of its Airpoints loyalty program and members of its Koru Club lounge program complimentary access toGenerator, a co-working space and business club located in the Britomart area in downtown Auckland.
ANZ says it offers the service, which it has dubbed 'Koru Central', to provide passengers with "an office-away-from-office" and "a place to touch down" in the central business district of Auckland on the days they fly in and out of Auckland.
Inside the loft-style Generator 'being space', passengers will find shared work environments, sofas and armchairs, plus a cafe/bar/lounge area and shower facilities. Meeting rooms are also available.
Passengers also get 2GB per month of Internet on their Koru Central account, with extra data at NZ$5 per GB. Business services like a PA, dictation services, and document production are available at Generatormember rates and ANZ's frequent flyers also earn Airpoints Dollars if they pay for eligible purchases using the OneSmart feature of their Airpoints card.
Koru Central @ Generator is open between 8:30am and 5:30pm Monday to Friday. To make use of the service, ANZ's Gold, Gold Elite and Koru Club members simply turn up to Generator and present their ANZ Airpoints card or ePass.
Members can invite one guest to join them. The Koru Central service, however, is not available to frequent flyers from other airlines, as deal doesn't extend to ANZ's partner Virgin Australia or other members of the Star Alliance alliance.
Delta x Yotel
Tapping into Air New Zealand's frequent flyer base is a smart strategy for a shared work space such as Generator in order to attract a new clientele.
On a similar note, Delta Air Lines since 2010 partners with capsule hotel Yotel to provide arrivals facilities for premium passengers at London Heathrow's Terminal 4.
Eligible travelers arriving into Heathrow on Delta flights from Atlanta, New York-JFK, Minneapolis or Detroit can freshen up in one of Yotel's 32 cabins at the airport.