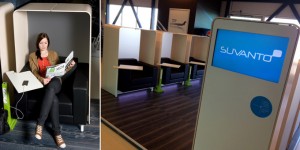 This article is re-published with kind permission of "www.airlinetrends.com".
As many passengers today carry a smartphone, laptop and/or a tablet device, many airports around the world now offer services such as free wi-fi (often for a limited time), seating areas equipped with power outlets, while wireless charging facilities can be found on airports such as Toronto Pearson (Powermat) and Helsinki Vantaa (Powerkiss).
Meanwhile, airlines like Delta (Recharging Stations) and brands such as Samsung (PowerPoles) have also installed public recharge stations in waiting areas.
Laptop chairs
The latest amenity that caters to tech-toting travellers that want to stay productive while on the road are innovative seating concepts that allow these so-called 'Digital Nomads' to work comfortably.
For example, besides providing unlimited free wi-fi usage, Vienna Airport's new 'Check-In 3' terminal) features so-called 'laptop chairs' which passengers can use to work undisturbed. The semi-open cubicle seats, designed by the terminal architects Baumschlager & Eberle, are made from leather and besides a small table contain several power sockets.
Helsinki Airport Suvanto lounge
In Finland, airport operator Finavia has partnered with Finnish companies Martela (office furniture), UPM (plywood), Fortum (electricity) and Karelia-Upofloor (wooden floors) to introduce a new public lounge concept at Helsinki Airport.
Called 'Suvanto' (which can be translated as 'quiet waters'), the private pods provide passengers with a tranquil space to make their waiting time more comfortable and make it more convenient to work between flights. Says Marko Tikkanen, director at Finavia, "Our goal has been to create a new kind of passenger service, which is available for everyone and meets the challenges of the changing passenger culture."
The Suvanto furniture has been designed by Martela's chief designer Pekka Toivola in cooperation with interior architect Iiro Viljasen as part of Helsinki's status as World Design Capital 2012. Based on Martela's Largo chair, the private pod is surrounded by a plywood arc that 'protects' the person sitting in the chair. The design also features a a small table surface and charging points for electronic devices.
The three Suvanto lounges are located near the gates 16, 26 and 36 and can be used free of charge. Free wi-fi is also available throughout Helsinki Airport, and earlier this year, the airport also installed 15 charging points at the gates that are sponsored by energy supplier Fortum.