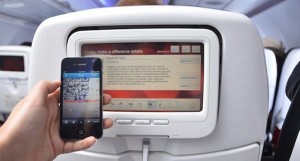 This article is re-published with kind permission of "www.airlinetrends.com".
Virgin America on 14 August celebrated  its new service between San Francisco and Reagan National Airport in suburban Washington, D.C., with an election-themed inaugural flight.
Along for the ride were presidential impersonators Jim Gossett as "Mitt" and Reggie Brown as "Barack," who spent the flight chatting with travellers en route to the capital of the USA as they handed out American flags.
Another reason why "Barack" and "Mitt" joined passengers onboard the first flight was to help "get out the vote" at 35,000 feet, as part of a partnership between Virgin America and Rock The Vote, the largest non-partisan voter registration organization in the USA.
QR codes
In an effort to sign up 1.5 million new voters, Rock the Vote has been using non-traditional ways to engage the public, for example by placing QR codes on T-shirts, and as part of the registration drive with Virgin America, fliers on all Virgin America flights now can scan a QR code on the airline's in-flight entertainment system in order to register to vote.
How it works: Passengers tap on the screen of Virgin America's 'RED' seatback entertainment platform to select the voter registration page in the 'Make a Difference' section on the system.
They then connect to the in-flight Wi-Fi system with their mobile phone and scan the QR code on the IFE page in order to receive an election registration app on their mobile device.
Passengers can then choose either to pay for in-flight Wi-Fi and sign up immediately, or wait until they land to access the app and sign up to vote. Passengers can also make a donation to Rock the Vote by swiping their credit card, while on the inaugural flight each passenger received a Rock the Vote t-shirt.
Says Virgin America: "Registering to vote on an airplane makes sense if it's the only down-time you've had available to handle responsibilities such as participating in our democracy. It would also give you some bragging rights as you wait in line to vote during the next election."
Adds Heather Smith, President of Rock The Vote, "We the people get to decide who will be flying to DC next year as our representatives, but no matter who you are voting for this November, you have to be registered first."
Vrgin America Partnerships
The novel voter registration drive runs through November, and the collaboration between Virgin America and Rock The Vote follows earlier innovative partnerships between the airline and the likes of Banana Republic, Victoria's Secret and Method.