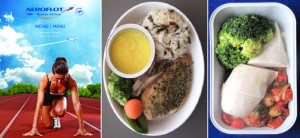 This article is re-published with kind permission of "www.airlinetrends.com".
Airlines around the world have been getting creative in order to highlight their link with the recently held 2012 London Olympic Games in ways that went beyond the traditional, static, means of advertising.
South African Airways, for example, has held a public competition that challenged South African youth to design "an iconic visual which captures the spirit of South Africa." The winning designwas then painted on an A340 aircraft that flew the South Afrian Olympic team to London.
Olympic 'home carrier' British Airways, meanwhile, organized a 'Great Britons' co-creation contest that saw top British talent develop an inflight menu inspired by the 1948 London Olympics, an aircraft livery that creates an illusion of a dove, and a short-film that was shown onboard BA flights and at the pre-opening of the Games. BA also launched an airline themed pop-up venue – called 'Flight BA2012' – in the run up to the Games.
Olympic sports menu
Russian flag carrier Aeroflot has come up with another innovative way to offer passengers an 'Olympic experience' onboard. As the official carrier of the Russian National Olympic Team, the airline has teamed up with nutrition experts from the Russian Olympic Committee to develop a a special 'Olympic sports' menu that is served onboard Aeroflot flights from Moscow to London in August.
Says Aeroflot CEO Vitaly Saveliev, "Transportation of the National Olympic team is our honourable duty to our country. We contribute to the higher achievements of our athletes by having nutrition experts from the Russian Olympic Committee produce a special sports inflight menu."
According to the input from the Russian Olympic nutrition experts, the basis of the sports menu had to consist of "protein-rich, lean meat, poultry, fish, eggs and dairy, to be either stewed or boiled, and served with fresh vegetables and fruit." Fried dishes and sweets were off limits as they are "full of fats and carbohydrates."
Aeroflot then developed the menu and presented it to the Russian Olympic Committee which together with several Russian athletes gave positive feedback on the menu.
Since the Russian athletes participating in the London Games would travel in Economy, special attention was paid by Aeroflot to the menu served in Economy Class, which consists of a plate of vegetables as a starter, chicken breast with broccoli or salmon with teriyaki sauce, jasmine white rice and fried vegetables as the main cource, and fresh fruit, a cereal bar, or yoghurt for dessert.
In Business class, passengers are served smoked duck breast with cucumber, radish and feta cheese as a starter, followed by black cod fillet served with mashed carrot, Chinese cabbage and fried mushrooms.
Further adding to the sports and nutrition theme, the menu cards also list the calorie count of each dish.