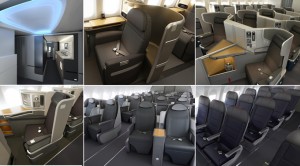 This article is re-published with kind permission of "www.airlinetrends.com".
American Airlines (AA) has lost roughly USD 10 billion over the previous 10 years, with the red ink being compounded by very contentious relationships between management and labor.
Whereas US legacy carriers Delta and United have emerged from bankcruptcy protection in recent years with a leaner cost structure, and have merged with respectively Northwest and Continental, AA's parent company AMR has been operating under Chapter 11 bankruptcy protection – which allows it to cut costs at the airline and return it to profitability – since the end of 2011 only.
AA's management has also been under heavy pressure from its own employee labor unions and other stakeholders to execute a merger – most notably with US Airways. AA CEO Tom Horton recently said that a decision on the future structure of the airline is expected to be made this fall.
Since AA's customer satisfaction rates have been below average for years, to put it mildly (although the airline topped United and US Airways in the 2012 JD Power airline ranking), AA is using its current restructuring phase to embark on an ambitious upgrade program designed to give the nearly 80 year-old carrier a much needed facelift.
Fleet modernization
American Airlines made a splash with its announcement in mid-2011 that it would be acquiring up to 460 new Boeing and Airbus aircraft as part of a massive fleet modernization program.
Out of this total, American intends to replace its fleet of domestic Boeing 757-200s and MD-80s with approximately 200 A319s, A321s and 737-800s – all with leather seats, Wi-Fi and in-seat inflight entertainment. The new aircraft will be delivered beginning with the A319s in July 2013, followed by the Boeing 737-800s in October 2013 and the A321s in the second quarter of 2014.
American is also retrofitting the cabin interiors, seating and IFE of its entire existing fleet.
Designed in partnership with James Park Associates (JPA), the overall design, trim and finish of all aircraft will complement the interior design scheme of the airline's new Boeing 777-300Ers, which was made public at the end of 2011. Last but not least, American is also reported to be considering a new aircraft livery.
Long-haul fleet upgrades
American Airlines will be the first US airline to operate the Boeing 777-300ER by the end of 2012.
The -300ER will become AA's flagship long-haul aircraft and will boast an impressive array of amenities, including a new First Class and full-flat seats in Business (similar to the seat designed by JPA for Cathay Pacific), as well as a new bar area, galleys and onboard connectivity. Taking design cues from the B787 Dreamliner, AA's new 777-300ERs will also feature a mood-lit archway at the entrance of the aircraft that creates a feeling of spaciousness.
Those in the back of the plane may feel a bit cramped though, as AA is joining the likes of Etihad, Air France and KLM in offering ten-across seating in Economy.
American will receive 10 777-300ERs between 2012 and 2013 and will deploy the aircraft on routes between the US, Sao Paulo and London Heathrow.
AA's current B777-200 fleet will be undergoing a retrofit and upgrade as well.
As American intends to target markets where demand for First Class is high with its new -300ER aircraft, the airline will do away with First Class on its -200s and move to a two-class configuration instead with fully lie-flat seats in Business that provide travellers with up to twice as much personal space as they enjoy today. American also expects to upgrade and retrofit half of its existing 767-300 fleet in the same manner.
As for the 787 Dreamliner, AA has placed an order for 48 787s but will not begin to take delivery until late 2014 – leaving United to be the first US carrier to fly the Dreamliner.
Transcontinental service
AA is also upping the ante on the business-travel heavy transcontinental routes between New York JFK, Los Angeles and San Francisco. AA will replace its current 767-200s with new A321s in late 2013 which will boast 10 full lie-flat seats in a 1-1 configuration in First, allowing for direct access to the aisle which is something no other US carrier currently offers on domestic flights.
AA's new transcontinental A321s will also feature 20 angled lie-flat seats designed by B/E Aerospace in Business Class. All seats in First and Business will have 15.4-inch HD screens, a vastly expanded menu of IFE offerings, and in addition to onboard Wi-Fi, seats in all cabins will have personal power outlets and USB ports. In Economy, half of the 72 seats will be reserved for AA's new 'Main Cabin Select' product, which offers 4 to 6 inches of extra legroom. Parts of these extra legroom seats are available on a complimentary basis to AA's upper tier frequent fliers.
Transcontinental competition
AA, however, isn't the only carrier that is upgrading its transcontinental fleet. United just announced it will revamp its transcontinental 'Premium Service' (p.s) fleet of B757 aircraft. Currently configured with 26 cradle-style seats in Business and 72 Economy Plus seats (34" pitch), United's newly reconfigured p.s. aircraft will feature 28 full lie-flat seats in Business – a similar seat if offered on Continental's international 757s – 48 Economy Plus seats with a 36-nch pitch, and 66 standard Economy seats. All seats will have personal AVOD and all p.s. flights will be fitted with a higher-speed version of Gogo's in-flight Wi-Fi system.
Regaining ground
After years of underinvestment in products and services, it seems like the significant upgrade programs initiated by American Airlines, Delta (USD 2 billion upgrade program), and to a lesser extend United, will result in an improved passenger experience that will enable major legacy carriers in the US to regain some of the lost ground both domestically and internationally.