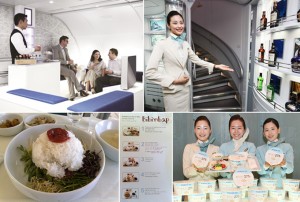 This article is re-published with kind permission of "www.airlinetrends.com".
Korean Air tops airlinetrends.com's 2012 ranking of the world's most innovative airlines.
The flag carrier of the 'Land of the Morning Calm' has established itself as a major hub carrier for passengers travelling between Asia and North America; its A380 flagships have the lowest seat density of any A380 operator and feature bars and lounges branded by Absolut Vodka, as well as a duty free showcase. The airline also operates its own organic farm and offers attentive service amenities such as a coat storage service and a women-only lounge at Seoul's Incheon Airport, which itself has been voted best airport in the worldfor the past seven years.
Incheon hub
Sandwiched between the world's second and third largest economies of China and Japan, Seoul's Incheon Airport has become a key North East Asia hub, offering more direct flights to Japanese cities than even Tokyo Narita, which is Japan's main international airport. Furthermore, Korean Air is taking advantage of South Korea's open skies policies with the US, Canada and China to target travellers flying between East Asia and North America (where it serves 13 destinations). The airline's short-haul route network spans 23 cities in China and 15 destinations in Japan and the airline generates 56 percent of its revenues on routes to China, Japan and North America.
Well-positioned
Because of high oil prices, a weak Korean won and the slow recovery of cargo traffic (Korean Air is the second largest cargo airline in the world after Cathay Pacific), Korean Air made a net loss in 2011. Analysts, however, are optimistic about the airline's future prospects, noting that "it will benefit from a solid increase in inbound/transit passenger demand especially from Chinese tourists, and increasing exports of consumer electronics and automobile components." Furthermore – similar to Delta Air Lines' recent purchase of an oil refinery –Korean Air in 2007 bought a 28-percent stake in South Korean oil company S-Oil in order to secure a stable supply of jet fuel.
Additionally, while many airlines across Asia are currently busy establishing their own low-cost carriers (LCC's), Korean Air in 2008 launched a low-cost subsidiary – Jin Air – in order to compete with Korea's high-speed rail network, the growth of domestic budget air travel, and the entry of Chinese and Southeast Asian LCCs. As LCCs in South Korea today account for over 40 percent of passengers on domestic routes, Jin Air is rapidly expanding its international operations. The carrier was the first South Korean LCC to offer services to mainland China and has launched a raft of new international routes in recent months. As it spreads its wings across Asia, Jin Air will also benefit from having a first-mover advantage compared with the relative youth of Japanese LCC's, while Korean Air may also use its LCC unit more strategically in the future.
Korean Air fleet and cabin upgrades
With regard to its mainline operations, Korean Air in 2011 completed an aggressive fleet expansion and cabin refurbishment program, which saw the airline upgrade the interiors of 49 long-haul aircraft and take delivery of 19 new aircraft. Korean Air's B777s and A380 feature Kosmo Suites' (based on Contour's Venus seat and customised by design firm Acumen) in First Class, while all wide-body aircraft have full-flat Prestige Sleepers from B/E Aerospace installed in Business Class.
Korean Air was one of the first airlines to receive Boeing's new 737 Sky Interior which also feature AVOD in all seats. Furthermore, besides Lufthansa, Korean Air is the only airline to have ordered Boeing's new 747-800 passenger jet, and the carrier will be the launch customer in Asia for Bombardier's new CSeries jet.
A380 flagship
The Airbus A380 in particular has given Korean Air an unequivocal image boost. In June 2011, the airline became  the world's sixth airline to receive the superjumbo and currently operates five A380s on routes to Hong Kong, Frankfurt, New York and Los Angeles.
Lowest seat-density
With 12 First Class suites, 94 full-flat seats in Business and 301 seats in Economy (which offers a very generous 34" pitch), Korean Air's A380 accommodates only 407 passengers – the fewest among A380 operators. The airline is also the first A380 operator to dedicate the entire upper deck of the superjumbo to Business Class, creating a business jet-like atmosphere. According to Keehong Woo – head of Korean Air's passenger business division – the airline hopes to better market itself to international corporations seeking connections to Asia and other markets with the A380 business-only upper deck. "We think that in some markets like Los Angeles and New York—or big cities in European countries—we can build up our business," says Woo. "Korean corporations such as Samsung are our biggest customers now. We are tying to diversify our customer base in the United States, in Europe and in China."
Onboard bars and lounges
With fewer seats than any other airline flying the double-decker aircraft, Korean Air has used the extra available space to install three onboard bars – co-designed in partnership with Absolut Vodka. The bars sport minimal Absolut branding with no visible logos, but feature three Korean Air signature Absolut cocktail drinks and a display tower.
One self-service bar is located in First Class at the front end of the main deck, while at the front of the upper deck there is another self-service bar and a four-person lounge area with built-in side tables and a magazine display. The aft lounge, appropriately called the Celestial Bar, is staffed full time with a bartender and incorporates a two-person sofa with reading lamps, a trio of lean-to cushions, and a flat-panel LCD on top of a magazine display.
Duty free display
Generating USD 201 million in duty free sales in 2011, Korean Air is seen as the world's most successful in-flight retailer. As Koreans, together with the Chinese, top the list of duty free spenders in Asia Pacific, Korean Air is the first airline in the world to feature an onboard duty-free showcase which is located in the rear part of the A380's lower deck, just in front of the stairs leading to the upper deck.
Designed by beauty brand L'Oréal's travel-retail division Scental, the main function of the duty-free area is to showcase the airline's duty-free offerings so passengers can get their hands on the best-selling items before making a purchase. The display complements the regular duty free cart service and is staffed by a full-time sales assistant. The bottles on display have a strong magnet on the bottom to prevent them from sliding in the event of turbulence. First Class passengers are invited to browse the goods on display and make purchases before anyone else, followed by Business Class and then other passengers. The orders placed by passengers are delivered to their seats later.
Catering
Korean Air is an active proponent of Korean-style meals and organic produce. For example, passengers in all classes can choose to sample South Korea's national dish – bibimbab – which is served with an instruction leaflet and 'gochujang' hot pepper paste. First class passengers can also opt for a lavish 'hanjeongsik' course.
Organic farm
Besides serving passengers local dishes, Korean Air also operates its own organic farm through its subsidiary Korea Airport Service. The airline's Jedong Ranch is located 400 meters above sea level on the mid-slopes of Mt. Halla on Jeju, a volcanic island located off the south coast of South Korea. Here, the airline grows organic produce and raises organic 'Jedong Han Woo' beef and chicken for its in-flight meals. The organic beef and chicken are part of meals served in First Class, while passengers in Business Class can enjoy organic vegetables, salads, bread and cereals. The bottled water also comes from a volcanic mineral water spring at Jeju that is owned by Korean Air.
Responding to the growing demand for a healthy food option on long-haul flights, Korean Air since June 2011 has offered a low-calorie salmon salad or noodles dish to Economy Class passengers. The packaging of the dishes prominently features the calorie-count of the dishes.
Service touches
In addition to the innovations featured on its flagship A380s and its local and organic food options, Korean Air offers passengers some other thoughtful amenities. Catering to the growing number of female passengers who make up 45 percent of its passengers, the airline recently refurbished its Prestige Lounge at Incheon Airport. Among the lounge's new features is a dedicated area for female travellers, which includes a restroom, sleeping room and powder room. Korean Air is also one of the few airlines in the world to dedicate bathrooms onboard for use by female passengers only. The airline's 'ladies-only' lavatory is decorated with pink coloured wallpapers, has a diaper board for babies and provides extra cosmetics.
At Incheon Airport, Korean Air also offers a coat storage service during the winter season where passengers travelling to sunnier destinations can leave their winter coat. After a five-day complimentary storage, a fee of KRW2,500 (USD 2.25, EUR 1,65) per day applies.
Another sympathetic initiative is Korean Air's 'Draw Your Own Plane' campaign, which asked kids in elementary schools across South Korea to make a drawing inspired by South Korea's heritage. The winning creations were featured on the livery of a Korean Air B747-400 that operates between Seoul's Gimpo airport and South Korea's port city of Busan.