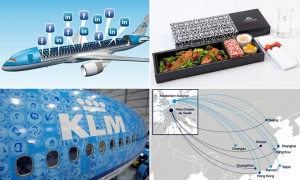 This article is re-published with kind permission of "www.airlinetrends.com".
In 4th place on our 2012 ranking of innovative airlines is KLM Royal Dutch Airlines. Part of Air France since 2004, the Dutch airline is the seventh largest airline in the world in terms of international kilometers flown, and serves 135 destinations with a fleet of 157 aircraft. Having a small homebase, KLM's strength lies in a tightly-knit, worldwide network, as the majority of its 25 million passengers transfers through its Amsterdam Schiphol hub, which is widely regarded as one of the best airports in the world.
KLM has been an early adopter of self-service options such as DIY luggage check-in, has a strong focus on sustainability (e.g, catering, biofuel), is rapidly expanding in China, aims to differentiate the passenger experience by adding local Dutch touches, and is a frontrunner in the adoption of social media.
Dutch heritage
According to KLM, customers have indicated that they appreciate KLM's typically Dutch character, and one of the ways the airline is emphasizing its Dutch origins is by partnering with contemporary Dutch designers Marcel Wanders and Viktor&Rolf for the creation of its onboard amenities. Marcel Wanders (of Droog Design fame) has designed the airline's Business Class tableware on short- and long-haul flights in his signature style, while Viktor&Rolf have created the airline's amenity kits.
KLM also recently teamed with Dutch designer Hella Jongerius – known for her industrial textile and colour skills – to revitalise its Business Class cabin interior across the fleet. The new Business Class will also feature BE Aerospace-produced 'Diamond' full-flat beds, which will replace the airline's current angled lie-flat seats. KLM's fleet of 22 B747-400s will be the first to be retrofitted with the new seats and further details of the design will be announced in the second half of 2012.
Delft Blue
Delft Blue porcelain is also part of KLM's Dutch-inspired branding. Since the 1950s, the airline has handed out small ceramic replicas of historical Dutch houses filled with 'genever' (a Dutch style of gin) to passengers in Business Class, that are still a popular souvenir item for many passengers. Furthermore, last year KLM launched a 'Tile & Inspire' campaign which invited Facebook users to convert their profile picture into a Delft Blue tile and add their own message. 4,000 of the most inspiring tiles were placed on the body of a KLM 'Delft Blue' Boeing 777-200.
Local food
Besides serving meals created by Michelin-starred Dutch chefs, KLM once a year organizes a 'From Holland' food and wine festival. For two months the airline serves Business Class passengers on long-haul flights out of Amsterdam meals based on seasonal home-grown ingredients from a Dutch Michelin star restaurant, as well as wines from Dutch vineyards and typical Dutch snacks.
For the packaging of its sandwiches served on European flights, KLM earlier this year challenged design students to come up with a design that reflected KLM's distinct Dutch character. Three of the most original designs were chosen by the airline's Facebook fans and KLM will serve a total of five million sets of sandwiches in the 'crowdsourced' packaging during the second half of 2012.
China
China's rapid economic growth has resulted in a growing number of business travellers to and from China, as well as an emerging Chinese middle class that is eager to travel. KLM has made expansion in China the centerpiece of its Asia focus and is the only airline to operate direct flights from Europe to second-tier cities in China such as Chengdu, Hangzhou and Xiamen. As China is home of no less than 160 cities with a population of more than 1 million, KLM expects to start more direct flights to second-tier cities in the future in order to maintain its first-mover advantage.
Route-dedicated service
In order to make Chinese passengers feel at home, KLM has localized elements of the onboard experience on flights to and from China. Each flight has three Chinese-speaking cabin crew onboard, announcements are also made in Mandarin and Cantonese, while language assistants are available to assist passengers upon departure and arrival. The IFE programming contains several Chinese movies, as well as subtitles in Mandarin, and on flights out of China KLM hands out maps of Schiphol Airport written in Mandarin. In Business Class, KLM has teamed up with Chinese high-end restaurant chain South Beauty to offer passengers the choice of a Chinese menu, and a local meal with jasmine tea is also served in Economy.
Social media
KLM, which has over 1.5 million Facebook fans and nearly 300,000 followers on Twitter, has developed a reputation when it comes to launching innovative social media campaigns. Besides the Delft Blue tiles livery, the airline randomly surprised passengers with a personal gift based on a tweet or Facebook profile, 'crowdsourced' a commercial flight via Twitter, and asks Facebook fans to share their ideas to improve KLM's products and services – to name a few recent initiatives.
Social seating
KLM's most ambitious 'social' initiative, however, is the airline's 'Meet & Seat' social seating scheme which was launched in February 2012. The service allows passengers to pick seatmates with similar interests before their flight by linking their Facebook and LinkedIn profiles to their seat number. Passengers must opt in for the service, and can adjust their privacy settings to reveal as much or as little information as they wish. 'Meet & Seat' is currently available for 13 destinations and CNN reports that in the first 3 months 2,200 people have shared their profiles. KLM has also just supplemented its 'social seating' service with a new 'social booking' platform called 'Trip Planner', which allows travellers who are friends on Facebook to coordinate and book their journey via Facebook.
Martijn van der Zee, senior VP of eCommerce at KLM, tells social media agency SimpliFlying that the response generated by the Meet & Seat programme is indicative of the radical change that the marketing landscape is undergoing. Engaging customers in a modern way doesn't have to involve a lot of money, he says. "What we're seeing is that people want real experiences, genuine messages and real actions from companies, which by definition do not cost a lot of money but require more effort." […] "We're open to failures and mistakes for the simple reason that if you don't dare, you will never be able to create things that customers want." […] "We have many people who literally say to us, 'We buy tickets with you because of your actions in the social space. If you are able to do this the right way, you can reach millions of people and they'll promote the airline for you," says van der Zee. "It's the strongest marketing message you can have."
Social media hub
Beyond merely engaging campaigns, the core of KLM's social media activities is formed by the airline's 'Social Media Hub' – a 40-member multi-disciplinary team comprised of channel managers, over 25 service agents, communications experts, copywriters, and a reputation manager. According to KLM, the real-time and public nature of social media requires an internal organization that is equipped to handle every kind of question – from simple information requests to rebooking a flight or selecting a seat – as well as "speak with one voice," especially in crisis situations where acting quickly and consistently is paramount.
Screens in the social media hub feature colorful charts that show the real-time sentiment about KLM and other relevant topics. KLM has deployed Salesforce.com's Service Cloud to collect, track, and trace all social conversations in one place and to measure its brand sentiment on the Web. DestinationCRM reports that about 50 KLM employees use the system to review, on average, 1,800 tweets and 400 Facebook comments per day. All of these interactions are automatically loaded into Service Cloud, so KLM personnel can respond, as well as see earlier interactions.
KLM's social media hub has set high targets for itself, and strives to answer every customer message via Twitter and Facebook personally within an hour, on a 24×7 basis a day, seven days a week, in Dutch, English, German or Spanish. To promote the launch of the new 24-hour social media service, the airline in September 2011 ran a 'KLM Live Reply' campaign in which tweets sent to @KLM could receive a 'live' reply made by 140 KLM employees, who lined up and held letters, giving a 'living alphabet' response.
iPads, apps
Besides its social media initiatives, KLM has also embraced other digital media. In late 2011, the airline provideda group of 50 senior pursers with iPads as part of a 6-month trial. According to the airline, it feels it is essential that cabin crew have easy access to the latest information in the air, as personal contact with passengers on the ground is becoming increasingly rare due to the increased deployment of self-service kiosks. As part of the same 'pilot', KLM also equipped 50 pilots with iPads, providing them with an extra tool during flight operations that is more efficient than the large volume of forms, briefing documentation and manuals they usually take along. KLM also just announced it will trial Panasonic's inflight Internet on board an B777-300 in early 2013.
For passengers, KLM has developed a series of specific apps, such as a 'Passport' app, which lets users record their journeys with their mobile phone and share their experiences via Facebook. The 'KLM's Houses' app lists all KLM houses, so passengers no longer have to bring crumpled notes with them in order to pick their favourite house, while the airline's 'Movies & More' app provides a real-time listing of the IFE programming onboard long-haul flights.
Ancillaries
KLM is looking to generate an additional EUR 400 million in the next few years through ancillary revenues, for example by offering Economy passengers more ways to customize their travel experience. KLM passengers on long-haul flights can already opt to upgrade to a seat in the Economy Comfort zone – which offers up to 10 cm more legroom and twice the recline of a standard seat – for a one-way fee ranging from EUR 60 to 150. For EUR12 to 15 passengers can also pre-order a premium 'a la carte' meal, instead of the usual free meal service. KLM has also been one of the first airlines to implement Amadeus Ancillary Services tool which allows travel agencies in the Netherlands to book ancillary products via the global distribution system, instead of via the airline's website.
Another innovative ancillary product is KLM's 'Time to Think' option, which is also offered by Air France. For a non-refundable fee of EUR 10 to 15 passengers can hold a reservation at the same fare for up to 14 days.