A growing number of airlines are launching dedicated services and products aimed at improving the flight experience for families with children.
From the previously discussed 'Happy Mom' initiative by Asiana and the 'Sky Nanny' by Gulf Air to kid-friendly tray table covers, these kinds of initiatives may be welcomed not just by parents and children, but also by other passengers who also benefit from initiatives that keep the youngest passengers entertained.
Passenger complaints about sitting near children are a recurrent issue in flying.
One airline that has been very creative in keeping the kids busy in-flight as well engaging children in the world of aviation, is Brazilian airline TAM.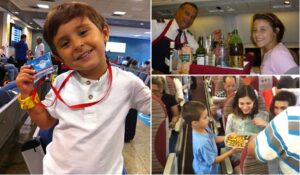 TAM Kids
Together with educational advisors, TAM developed the TAM Kids program which consists of three main elements:
A TAM Kids website where children can play games, get to know characters from the TAM Kids Team and learn about the history of aviation, the experience on board the aircraft, and a 'kids room' at the TAM museum that includes aviation-related toys, games and attractions, including flight simulators and a hangar and control tower replica.
Onboard experience
With parental consent, children up to 12 years of age can also sign up for TAM Kids and receive an official 'Comandante Kid' badge.
On-board, children with 'Comandante Kid' badges are invited to help the crew by welcoming passengers on the flight's PA system, distributing candies before the flight takes off (videos here and here), and visiting the cockpit after the aircraft has landed.
In addition, TAM provides the children with the TAM Kids magazine, kid-friendly meals, and on international flights, IFE channels with movies and music for children.