Flickr'daki Türk Hava Yolları havuzunda dolaşırken rastladığımız bir fotoğraf ve altındaki yorumlar…
Büyük ihtimalle Amerikalı olan bu kişilerin söyledikleri, düşük maliyetli taşıyıcıların sektörü getirdiği noktayı kuvvetli bir şekilde vurgulamış.
Aslında bir yandan da içim cız etti. Sanki geri kalmış bir ülkenin aç vatandaşları, doyasıya yemek yiyen zenginleri seyrediyor; imreniyor.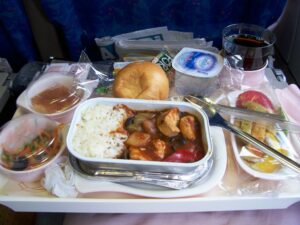 –"I haven't seen an airline meal like that in years. I guess they only serve that on intl flts nowadays."
–"It's a sad statement (proof even) as to the downward evolution of American air carriers in general. I could rant on this subject for 10 minutes alone…at least foreign carriers still get it…"
Bu cümleler aynı zamanda, düşük maliyetli iş modelinin uzun menzilli hatlarda neden hiç bir zaman var olamayacağının da bir göstergesi.