Oldu olacak, uçtu uçacak, kondu konacak derken, Airbus A380′in ilk resmî seferi Singapore Airlines bayrağı altında en nihayetinde gerçekleştirildi.
Bugün (25 Ekim 2007) Singapur'dan havalanan dev, yaklaşık 7,5 saatlik bir seyahatin ardından Sydney'e vardı.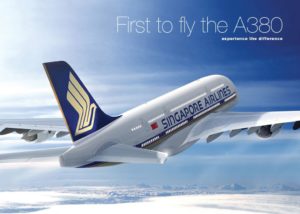 Şurada bu tarihî yolculuğun bir yolcu gözünden anlatımını, şurada ise dev kuşun Sydney'e iniş videosu ve fotograflarını bulabilirsiniz.
Tüm dünya vatandaşlarına hayır olsun. Darısı başımıza!
not: A380, önümüzdeki Salı günü (30 Ekim 2007) İstanbul'da bir tanıtım uçuşu yapacak.
not 2: BBC'nin konuyla ilgili haberinin altındaki okuyucu yorumlarından bir tanesi:
Amazingly we have a huge divide on the same planet. Here in Uganda we have poor folks reeling from the effects of floods and mosquitoes while out there the Airbus makes this historic journey. Gives us hope though that one good day we may share with our better of colleagues on how to tame nature. But don't leave us behind.
Nakwagala Fred, Kampala, Uganda