Havayolu sektörünün önde gelen firmalarından Emirates, 15 milyon USD bütçeye sahip bir tanıtım kampanyası başlattı.
"A World of Good Times" adı verilen kampanya, 15 Ekim 2017 tarihi itibarıyla tüm dünyada gösterime girdi.
Kampanyanın amacı, hem Dubai'yi hem de Emirates'in sefer düzenlemekte olduğu onlarca farklı destinasyonu ön plana çıkararak, insanlara ilham vererek onları daha fazla seyahat etmeye teşvik etmek.
Kampanya için hazırlanan videoda, efsanevî Queen grubunun "Don't stop me now" adlı eseri kullanıldı.
Don't stop me now adlı şarkının seçilmesi basit tercih değil. Bu eser, İngiltere'de yapılan bilimsel bir araştırmaya göre, dinlendiğinde insanlara kendilerini en iyi hissettiren müzik parçası.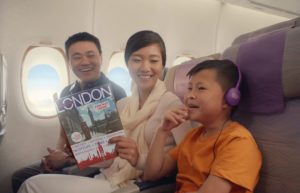 Arka planında bu mükemmel şarkının çaldığı bir dakikalık videoda, Emirates'in sefer yaptığı önde gelen turistik destinasyonların görüntüleri, şirketin uçak içerisinde sunmuş olduğu ürünlerle son derece başarılı bir biçimde harmanlanarak verilmiş.
Günde 500'den fazla sefer yaparak tüm dünyayı Dubai üzerinden birbirine bağlayan Emirates'in Airbus A380 tipi uçaklarında yer alan bar, uçak içi eğlence sistemi, First Class Suit gibi unsurlara bu videoda rastlamak mümkün.
Kampanyanın kavramsal çalışması, Emirates'in Kurumsal İletişim, Pazarlama ve Marka birimi tarafından gerçekleştirilirken, video, ödüllü yönetmen Vaughan Arnell tarafından çekildi.
"A World of Good Times" aslında, "destinasyon pazarlama" türü için son derece güzel bir örnek.
Havayolu şirketi ile Dubai kent yönetimi güçlerini birleştirerek, şehrin turistik olma özelliğini bir kez daha güçlü bir biçimde vurguluyor.
2017 yılında 16 milyon turist tarafından ziyaret edileceği tahmin edilen Dubai'nin, bu açıdan Bangkok ve Londra'nın ardından dünyanın üçüncü sırasında yer alması bekleniyor.
Bununla birlikte, Dubai'yi ziyaret eden turistler burada yaklaşık 29 milyar USD harcama gerçekleştiriyor. Yapılan turistik harcamalar açısından dünya lideri olan Dubai'nin ardından açık ara farkla New York (17 milyar USD) ve Londra (16 milyar USD) geliyor.