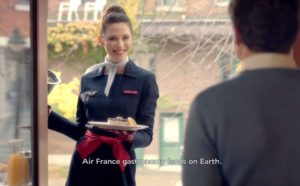 This article is re-published with kind permission of "www.airlinetrends.com".
As the flag carrier of a country that prides itself on its culinary excellence, Air France in the past years has been creative in promoting its onboard cuisine.
Besides partnering with many Michelin star chefs (like many carriers do), the airline regularly invites a chef to join a flight to personally introduce a new menu to passengers in Business and First.
A few years ago, Air France also toured with a food truck around Manhattan handing out free samples of its inflight meals to the public.
Now, in an 'on trend' initiative that builds upon the popularity of food delivery services such as Foodora, Deliveroo, GrubHub and Uber EATS, Air France has launching the 'Bon Appétit' campaign in Montreal.
To coincide with the grand opening of his new L'Atelier de Joël Robuchon restaurant in Montreal, Joël Robuchon – known as the chef with the most Michelin stars in the world –  has partnered with Air France and delivery app Foodora to give Montreal residents the chance to have a free three course meal delivered directly to their homes.
The offer runs from 9 to 15 December 2016 and each day 10 menus are made available via Foodora.
Those who want to order the gourmet menu have to use a discount code (BONAPPETIT) to have the 3 course meal – which is priced at CAD 95 – delivered for free.
All dishes are prepared in the chef's new restaurant which opened to the public on 7 December.
The gastronomic menu is comprised of Osetra caviar on a aniseed-infused coral gelée as starter, duck confit parmentier as the main dish, and mango smoothness on cranberries and rosé champagne for dessert.
Joël Robuchon has designed several menus on board Air France' La Première (First) cabin and according to the airline the 'duck confot parmentier' has been part of the menu in La Première menu in the past.
Air France says that with the initiative it aims to illustrate French culinary expertise and provide Montreal residents with a way to enjoy the dishes on offer on board Air France flights in the comfort of their own home.
From January to March 2017, Joël Robuchon will again design the new La Première menu on board Air France's long-haul flights.