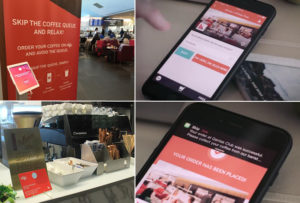 This article is re-published with kind permission of "www.airlinetrends.com".
Taking a cue from Starbucks' mobile ordering service, as well as fellow down-under airline Air New Zealand's coffee ordering service, Qantas recently introduced a new service at its lounges across Australia that invites lounge visitors to order their barista-made coffee via their smartphone.
In an effort to offer peace of mind to busy travellers who have navigated traffic and queues at security before having to line up again in the lounge to get a barista-made coffee, Qantas has partnered with Skip, a free app that helps customers "skip the queue" by ordering and paying for coffee and food.
In the Qantas Clubs alone, baristas brew over 1,000 cups of tea and coffee every day. In an average week the Sydney Qantas Club sees the biggest demand for coffee, with 6 am to 7 am being the peak demand time.
The mobile ordering service has been available since July 2016 and the Skip app can be used to order coffee at Qantas Clubs and Business Lounges at Adelaide, Brisbane, Canberra, Melbourne, Perth and Sydney domestic airports.
Qantas passengers using the Skip app can also select the time they want to collect their coffee and receive a text message when their order is ready. In addition, touchscreens have been installed around the lounges so those who aren't Skip users can order before walking up to the bar.
According to Skip general manager Bill Bizos during the soft launch most people preferred downloading the app to using kiosks.
Commenting on the Qantas alliance, Skip's Bill Bizos said: "We know that many travellers transiting through a Qantas Club or Business Lounge are looking for both convenience and caffeine, and this innovative new service offers both. For us it is a great opportunity to work with an iconic Australian brand and one that looks for great customer service."
Skip was launched two years ago and can be used at more than 800 cafes and bars around Australia and currently has over 60,000 users. Transactions are charged to the user's credit card.
The Australian reports that the alliance with Qantas is the first step for Skip outside CBD cafes and could herald a move into other locations such as hotels.
Skip is also poised to trial a move into sports stadiums, mirroring the US model where spectators at sports events can order food and drink from their seats.