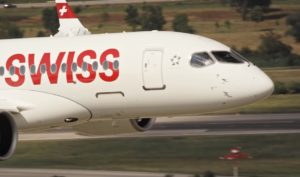 This article is re-published with kind permission of "www.airlinetrends.com".
By Marisa Garcia, FlightChic
Aircraft manufacturers are creating new passenger-friendly cabin environments by re-thinking the fuselage structure and introducing more spacious cabins with larger windows and improved cabin pressurization, among other innovations.
Boeing's 787 Dreamliner and Airbus' A350 cabins, as well as Airbus' new AirSpace cabin exemplify this new design thinking for wide body aircraft.
On narrow body aircraft, Boeing's SkyInterior cabin delivers cabin improvements, as does Zodiac Aerospace's ISIS (Innovative Space Interior System) cabin featured on Delta's A320-family aircraft.
Now these cabin improvements found on Boeing and Airbus aircraft are coming to regional aircraft with Bombardier's new CSeries regional jet.
SWISS CSeries 100
In mid-July, the first CSeries 100 aircraft entered service with launch customer SWISS, and won the hearts of passengers and industry watchers alike.
As Aviation Week put it nicely:
"Aerospace is driven by innovation" is a timeworn slogan used by industry executives and enthusiasts. Yet there hasn't been a clean-sheet aircraft in the single-aisle segment for 28 years. To an outsider, this would seem odd—particularly as single-aisles comprise 70 percent of mainline jetliner production.
Bombardier corrected that anomaly this month when the C-Series entered service with Swiss.
After flying in the C Series and digging deeper into its design and systems, I've come to the conclusion that it is bringing significant value-creating technology into the market.
Larger windows, wider middle seat, mood lighting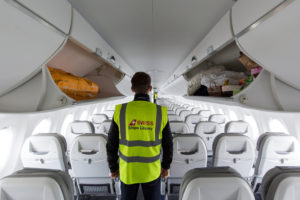 The CSeries aircraft contains a high usage of composite materials, is quieter, features larger windows, and the cabin features large, rotating overhead storage bins, allowing each passenger to stow a sizeable carry-on bag overhead.
The combination of the bigger windows and the higher ceiling make this smaller single aisle aircraft feel more spacious, while mood lighting can brighten up the space even more.
The aircraft also features two spacious lavatories.
SWISS – which will take delivery of nine CS100s in 2016 – has configured the 125-seat CSeries cabin in a 3-2 configuration, which reduces the chances for singles of being stuck in the middle seat.
That said, the airline has also used the extra room available to improve the experience for the passenger seated in the middle by making this seat wider at 19 inches.
The first four rows of SWISS' CS100 are dedicated to Business Class, which leaves the second seat in the 2-row section and the middle seat in the 3-row section empty.
Small overhead screens on every row
Arguably, the most innovative feature of the CS100 cabin is in the new overhead passenger service units (PSUs), which feature small screen displays – about the size of smartphones.
Because there are two of these screens on every row, visibility for the majority of passengers is better then the more common overhead drop-screens found on some larger aircraft, while avoiding the weight of seat-back screens.
The PSUs are not used for in-flight entertainment but play the safety video prior to departure and show a moving map during the flight which marks the flight's progress.
In another initiative, SWISS recently launched a 'pre-flight IFE' trial at Geneva Airport that lets passengers from Geneva Airport download videos, magazine and newspapers to their smartphone or tablet while waiting at the gate or in the lounge.
CS300
Bombardier's larger version of its CSeries aircraft – the longer-range CS300 – will enter service in October this year with airBaltic and this 148-seat aircraft will feature similar passenger-friendly elements.