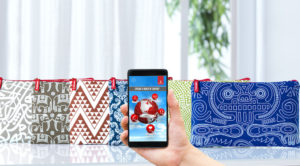 This article is re-published with kind permission of "www.airlinetrends.com".
In an effort to have passengers take their amenity kit with them after their flight as a branded souvenir, airlines increasingly come up with innovative designs.
Think amenity kits that can be re-used as a branded tablet case, while for example SWISS offers passengers in Business a 'winter edition' of its amenity kit that includes a beanie hat and a neck warmer.
Sign of the times
Well timed to coincide with the current Pokémon Go craze, Emirates has launched the world's first interactive amenity kit in Economy Class that utilises augmented reality (AR) technology to unlock content on mobile devices.
The kit bags come in six designs inspired by the colours and patterns of six regions in Emirates' global network – Australasia, Latin America, Middle East, Africa, Europe and the Far East.
Blippar
By downloading the Blippar AR mobile phone app (iOS, Android), and using it to scan the patterns on the bags, passengers can unlock content including activities and health tips for a more comfortable and relaxing travel experience.
The content will be refreshed every six months.
The Blippar app is a 'visual browser' which enables customers to discover more about the world around them.
Customers can point at thousands of objects already recognised by Blippar (ranging from laptops to clothing and food to pets) to get additional information on those items.
The content explains the object, the context and other useful and interesting facts – and is sourced from Blippar's knowledge graph called Blipparsphere.
The amenity kits will be distributed in Economy Class on selected Emirates long-haul routes and on all ultra-long haul services starting from August.
The kits contain an eye mask, earplugs, toothbrush and toothpaste, and socks – each tailored to the style of the kit bag.
The multipurpose pouches are made of Neoprene material – a water resistant fabric – and are designed to be reused after the flight to store anything from devices to cosmetics or stationery.