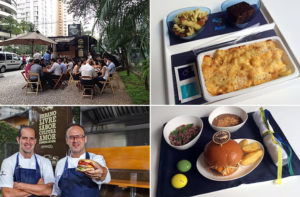 This article is re-published with kind permission of "www.airlinetrends.com".
From its California origins, the food truck phenomenon has exploded in cities across the world, evolving from chip stands into quality gourmet food.
Tapping into the food truck trend, about half a dozen airlines –  including Air France, Lufthansa, Austrian, Delta, United and Korean Air – in the past few years have sent their own branded gourmet food truck around the streets of cities around the USA as a means of promoting their on-board catering services.
And in order to promote the restaurants and cafes present at the Stockholm Arlanda,  the Arlanda Food Truck toured around Stockholm during the fall of 2013.
Azul and Buzina Food Truck
Now, Brazil's Azul Airlines – known for its innovative products and services – has flipped the airline food truck concept by teaming up with Sao Paulo's popular Buzina Food Truck to serve the food truck's fare onboard.
Starting this July, passengers in all classes onboard Azul's A330s from Sao Paulo on routes to the United States and Portugal will be served menus designed by the Buzina food truck chefs and adapted to fly by LSG Sky Chefs.
The onboard menu choices include Buzina staples like macaroni and cheese in Economy and artisan cheeseburgers in Business.
Dubbing the initiative 'A Food Truck that Flies', the emphasis of the concept is on quality and friendliness, according to LSG.
The award-winning Buzina Food Truck has been operating in Sao Paulo since 2013 and by teaming up with a 'Local Hero' – a small, independent retailer, F&B operator or craftsman – Azul adds a sympathetic twist to its onboard offering.
"Food on an aircraft should surprise and generate delight," said Claudia Fernandes, Marketing and Communications Director at Azul.
"Passengers will enjoy fresh food that is different and has been designed by two renowned chefs. At the same time, it reinforces the values of our brand."