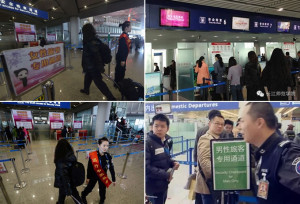 This article is re-published with kind permission of "www.airlinetrends.com".
Tackling the airport security bottleneck is one of the main priorities for airports and airlines around the world with technology playing a major role in initiatives such as IATA's 'Smart Security' program and Air France-KLM's inventive biometrics-based 'Happy Flow' project.
Low-tech approaches
However, as a broad rollout of these advanced solutions is still some time away, several airports have come up with creative 'low-tech' approaches in order to help passengers navigate security faster.
For example, back in 2008 the US Transport Security Adminstration (TSA) introduced a scheme that let travellers self-select their security lanes based on their familiarity with checkpoint procedures. Modeled on signage used at ski resorts to rate a slope's difficulty, travellers could choose between 'black diamond', 'blue' and 'green' lanes. However, the system was terminated several years later.
A few years ago, Pittsburgh Airport tested an interesting idea called 'Express Security Lane' which was reserved for passengers travelling with only one carry-on bag, while Montreal's Pierre Elliott Trudeau airport provides an online service, called SecurXpress, that allows passengers to be assigned a time slot to pass through security screening, rather than queuing up at a random time.

Female-only security lanes
Another way to segment passengers at the security check has recently been introduced by Beijing Capital International Airport, which in early February opened female-only security lanes in the run up to China's Spring travel season.
The new service at Beijing Capital aims to help speed up security checks by 15 percent at the airport, which is one of the world's busiest. Airport officials have analyzed that, while normal lanes process 120 to 130 people per hour, female-only lanes can process 20 more people per hour.
The reason for this is that in China female passengers can only be checked by female security officers. Civil Aviation Security Check Regulations specify that "Pat-down procedures should be completed by officers of the same sex; when the traveler is a woman, only female officers can carry out the check."
Hence, when multiple female passengers appear at the security check simultaneously, the female security officers will be very busy, while their male colleagues are sitting idle. Furthermore, female passengers often carry items that can be embarrassing for male security personnel to check, one security officer explained.
Says Kai-Chin Shih of >TalkAirlines, "Besides Beijing Capital Airport's female-only security lanes, there are several other airports in China, including Chongqing Airport, that also reserve lanes for females. Interestingly, Shanghai, Chengdu, Tianjin, and several other airports in China also feature 'male-only' security lanes."
Male-only security lanes
According to Shih, the reason behind the introduction of male-only security lanes at Shanghai Pudong Airport is that "Since men are not allowed to search female passengers, most airports have only been hiring female security officers. Partially because of this, Pudong had an insufficient number of security officers and introduced a male-only lane staffed by male officers in order to legitimately hire male security officers and speed up the security checking process. Similar to female passengers, male travellers may also feel embarrassed being checked by officers of the opposite sex."
According to Shanghai Pudong Airport, the speed of male-only security lanes can be 10 to 15 percent higher than normal lanes. Normally it takes 40 to 50 seconds to complete security checking for one passenger, while if it is a male checking another male, the process only takes 30 seconds.