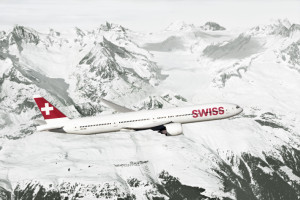 This article is re-published with kind permission of "www.airlinetrends.com".
SWISS just took delivery of its first new B777-300ER aircraft.
One of the things we like about SWISS' new flagship interior is the creative touch that the airline and design agency Priestmangoode have added to the galley areas.
Welcome Onboard
On most wide body aircraft, the first impressions passengers get when entering the aircraft at the so-called 'door 2' is the sight of an industrial-looking galley area.
In an effort to create a more welcoming environment, a growing number of airlines are adding design touches to this door 2 area.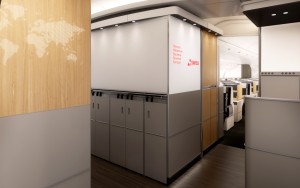 As aviation journalist Marisa Garcia from FlightChic puts it: "Of course, airlines still buy the generic and utilitarian galleys, but the trend is towards cabin monuments serving a second life as welcome zones or customer social areas, at least for wide-body aircraft. Beyond looking pretty, putting this functional space to work as an element of the passenger experience is smart design thinking."
Recent examples include Finnair, which for its new A350s has come up with a clever (and economic) solution by installing galley screens that are lowered when passengers are boarding and which feature a striking photo of Finland's nature.
On the other end, Etihad has gone all out with the creation of a 'welcome lobby' on its A380s, which features dark wood fretwork panels, screens and doors and recreates the feeling of entering a boutique hotel.
SWISS, meanwhile has added rollable screens that cover the working areas in the galley and the galley walls feature an illuminated welcome panel, as well as an illuminated world map in an oak wood finish.
According to the airline it has treated the entrance to its new B777-300ER "like a reception with a welcoming entrance that that mirrors that in the reception of the SWISS lounges at Zurich airport."
Self-Service Snackbar
Another feature that has started to trickle down from the Business cabin to Economy are self-service snack areas.
Qantas and Singapore Airlines already provide passengers with snack stations onboard their A380s, which makes sense given the massive floor space available on the A380.
However, in recent years snack stations 'lite' have also started to appear on smaller aircraft.
For example. JetBlue has installed a snack station on its fleet of A321s in the area in between Economy and Business, while Brazil's Azul has installed snack corners in the galley between the Economy and Business cabins on its A330s. And on its B787s, Virgin Atlantic has come up with an inventive concept for Premium Economy passengers called the 'Wander Wall'.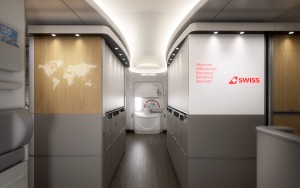 On a similar note, SWISS has opted to feature a self-service kiosk in the Economy galley on its new B777-300ERs.
Economy passengers can make use of the snack station, which offers drinks and snacks, outside the regular cabin service.
Industry publication Aircraft Interiors International nicely summarizes the amenity: "There is something that really stands out in economy though: the self-serve galley, which offers passengers something a little extra, while working within the required cabin density. It's wonderful to see a destination space in an economy cabin."
Swiss' Head of Cabin Interior Development and Infotainment Paul Estoppey also tells Aircraft Interiors International that the airline also considered to add a walk-up bar in the premium cabins, but said, "Our experience shows that there's no real need for a bar in first and business class. Since we introduced our fully lie-flat beds in 2008, our first and business class customers tend to stay much more in their seat/bed rather than move around the cabin. Movement is something we see more of in economy class, which is why we are providing our new self-service kiosk there."