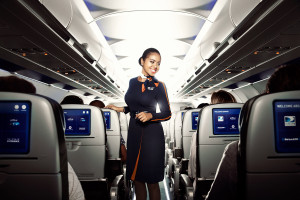 This article is re-published with kind permission of "www.airlinetrends.com".
At airlinetrends.com we continuously monitor the global aviation industry for product and service innovations launched by airlines in response to cultural, technological, and economic changes that influence airline customers' needs and expectations.
The top product and service innovations we have selected to be among the most innovative concepts that have been launched this year reflect how airlines are becoming more creative in the design of new products and services as more airlines are embracing hospitality, design and technology as ways to differentiate the passenger experience.
Many of the examples on our list contain a major digital component, as the rapid adoption of smartphones and tablets, the option to be connected anywhere and anytime, and the self-service mindset of connected travellers, has created a huge momentum for airlines to come up with innovative products and services.
The Airlinetrends.com Top 10 Innovations for 2015
1. Netflix and Amazon inflight streaming deals are further proof of an IFEC revolution
By enabling passengers to stream content from Netflix and Amazon Prime onboard respectively Virgin America and JetBlue, satellite company ViaSat is also putting pressure on the current IFE content supply chain.
ViaSat's Don Buchman explained: "There was evolution happening and now it's revolution. It's similar to how the iPhone changed the mobile market. Amazon and Netflix are not traditional IFE players, but things are changing."
2. Ryanair wants to become the 'Amazon of travel'
Ryanair said it wants to become the 'Amazon for travel', with its new website to leverage personal data to offer customers hotel bookings and TripAdvisor-style reviews.
Says Ryanair CEO Michael O'Leary, "We now have an opportunity with the new website to build Ryanair.com not just as the airline's website but as a kind of Amazon for travel in Europe."
3. KLM's Happy Flow shows the future of the airport passenger process
KLM's 'Happy Flow' aims to revolutionize the airport process and uses facial recognition technology as the basis of a single passenger token, removing the need for passengers to present their passport and boarding pass at multiple stages of the airport journey.
4. Finnair's new A350 features a host of innovative passenger experience elements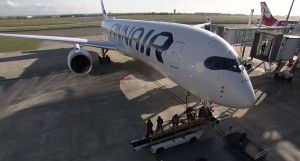 Finnair has been the first European airline to take delivery of the A350 and has come up with a series of innovative features, such as a 'Space Alive' mood lighting concept, a ladies-only lavatory and free wifi in Business, duty free pre-ordering via the inflight portal and an IFE-based visual 'flight stages' timeline.
5. Brazilian 'value carrier' Azul goes long-haul with full-flat Business beds, SkySofas, walk-up bar and IFE-based ordering
Brazil's Azul, which can be regarded as the Brazilian equivalent of JetBlue, recently launched its new A330 cabin, which includes a fully fledged Business Class cabin, Sky Sofas in Economy, a walk-up bar, and the option to order F&B via the in-seat IFE system.
6. TUI lets passengers order F&B and duty free inflight via their own devices
Netherlands-based leisure carrier Arke (part of the TUI Group) has launched a trial in which passengers can use their own devices to order beverages, snacks and duty free items.
Cabin crew receive the orders made by passengers on their tablet devices.
7. Transavia lets passengers download IFE content to their own devices pre-flight
Transavia allows passengers to download movies and TV programmes to their own electronic devices before their flight. As soon as the passenger boards the aircraft, the pre-downloaded content is activated and it is then automatically deleted at the end of the journey.
8. Pre-ordering of food and beverages is getting more popular with airlines and airports
In today's always-on, on-demand economy the notion of pre-ordering food and beverages has evolved from a rather dull thing to do towards a smart move that is about convenience and getting the things you way you want.
Examples from forward-looking airlines and airport F&B outlets.
9. China Eastern trials 'intelligent personal assistant' for in-flight service
China Eastern has launched an airline-specific version of Microsoft's 'XiaoIce' – an intelligent personal assistant – which on Wi-Fi equipped aircraft allows passengers to socialize with other passengers, contact the crew (who are equipped with tablets) and send post-arrival pick-up reminders to people on the ground.
10. Air New Zealand lounge guests can order their favourite coffee via their smartphone
Taking a cue from Starbuck's, Air New Zealand now lets flyers order barista-made coffee via its smartphone app the minute they walk into one of the airline's Koru Clubs around New Zealand.