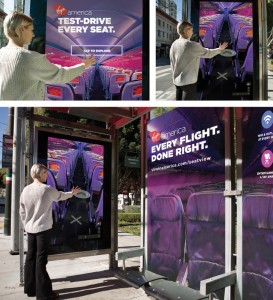 This article is re-published with kind permission of "www.airlinetrends.com".
Virgin America has turned bus shelters in San Francisco, New York, Los Angeles, Dallas, Washington D.C., and Chicago into digitally-immersive, out of home advertisements with the help of Google Street View.
This campaign plays right into Virgin America's popular image as the hip and edgy airline in the North American market.
The bus stops are completely covered in Virgin imagery and branding.
People waiting at the special bus stops can use also huge touchscreen to navigate through one of Virgin America's aircraft in precisely the same way they are used to doing on Google Street View (which now features similar interior views for airlines such as Emirates, Air France, British Airways and SAS).
The 360-degree virtual experience lets bus-takers explore an A320 cabin from front to back galley, and even enter the rows for a realistic "seat view."
Virgin has blended the visual impact of large-scale out of home advertising with the futuristic allure of digital. When trying to impress people in a world saturated with marketing messages, sometimes more is more.
Virgin America's 'Seat View' can be found on the airline's website and is accessible through Google Maps – one simply need type in "Virgin America" plus the code of an US airport they service.
A web campaign aims to drive traffic the new feature.
Clickable banners directing people to the feature have appeared online at The Washington Post, The New York Times, The Wall Street Journal, Forbes, etc