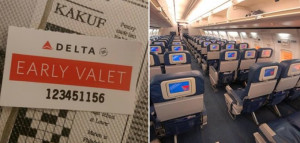 This article is re-published with kind permission of "www.airlinetrends.com".
The process of boarding an aircraft is inefficient, as passengers entering the aircraft have to wait for other passengers who are busy placing their luggage in the overhead bins.
They then quickly having to cram their own luggage into bins that are increasingly full, as many passengers try to take as much carry-on baggage with them into the cabin in order to avoid paying checked luggage fees.
In an effort to take some of the stress out of the boarding process and reduce expensive delays before take-off, many airlines have been looking for alternative procedures to optimize boarding, especially since a faster boarding process also speeds up aircraft turnaround times, reducing the time that aircraft needs to spend on the ground.
Pre-loading carry-on bags
Now Delta Air Lines is trying something new:
This summer travel season, the airline plans to preload carry-on bags into the overhead bins on some flights.
The new system is called 'Early Valet' and will offer passengers on busy US routes the chance to have a steward take their luggage from them at the gate and place it in the compartment above their assigned seat.
Agents will ask customers seated in the gate area if they'd like to participate, Delta spokesman Morgan Durrant told NBC.
"Their bag will be specially tagged, similar to what you'd see at a hotel for room delivery," said Durrant, "and then taken down onto the aircraft before boarding and placed above a customer's seat based on their seat assignment."
Leisure routes
Delta's new service will focus on the busiest airports and it will be available only on flights that typically have a high number of vacationers, holiday flyers.
It is not being offered on business routes; presumably because business travellers know how to board a plane efficiently.
The program began June 1 and will be offered on select departures from Delta's busiest hubs at Atlanta, Detroit, Seattle, Minneapolis-St. Paul, Salt Lake City and New York (JFK and LaGuardia). The program will run until the end of August.
Durrant said the program was tested last summer at Atlanta Hartsfield-Jackson and Los Angeles International airports and showed some time savings in the boarding process.
Looking sideways
Delta's Early Valet service is another example of how airlines are looking for creative solutions to the boarding process, as no magic solution has been found yet. Other industries can serve as a source of inspiration here.
For example KLM last year introduced a boarding process called 'Smart Boarding', which sees passengers being issued with a boarding number at the gate, which is based on an algorythm.
When boarding starts, the numbers are displayed one by one at five-second intervals on monitors at the gate, allowing only one person at a time to board the plane. This solution has been inspired by the practice in the Netherlands back in the last century of having to take a number when waiting for ones turn at the butcher, the bakery or the post office.
On a similar note, Delta's Early Valet concept seems to be inspired by the bell luggage service at luxury hotels.

Practical implications
With regard to the practical implications of Delta's Early Valet service, some passengers may be hesitant to hand over their hand luggage, as they have to decide upfront what items to take out of their bags to be used when seated. And more importantly, their hand luggage also contains valuable belongings which they might not want to leave unattended for.
What we like about Delta's 'Early Valet' service though is that it is very much 'low-tech', so it can be easily implemented and rolled out across multiple airports.