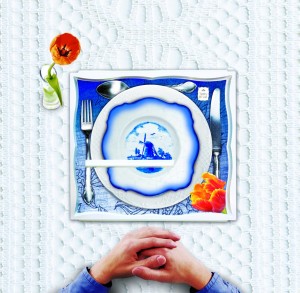 This article is re-published with kind permission of "www.airlinetrends.com".
As the airline industry has always captured people's imagination, airlines can tap into their local heritage to incorporate a bit of storytelling into the travel experience. Legacy carriers in particular can benefit from their 'flag carrier' status as a source of inspiration in designing the cabin experience, in order to move beyond the generic grey and blue environments.
KLM 'Internationally Dutch'
A well-documented example is KLM's 'Internationally Dutch' brand positioning, which has seen the airline collaborating with internationally well-known Dutch designers such as Victor&Rolf, Marcel Wanders and Hella Jongerius for respectively amenity kits, tableware and seat and interior design. According to KLM, customers have indicated that they appreciate KLM's typically Dutch character, so it decided to embrace Dutch Design.
Delft Blue porcelain is also part of KLM's Dutch heritage-inspired branding. Since the 1950s, the airline has handed out small ceramic replicas of historical Dutch houses filled with 'genever' (a Dutch style of gin) to passengers in Business Class, which are a popular souvenir item for many passengers.
In order to bring a contemporary style to its Business Class dining, KLM in 2011 began serving meals in Business Class on both short- and long-haul flights offered on tableware designed by Marcel Wanders. The designer (of Moooi and Droog Design fame) created porcelain, glassware, cutlery, linen and a tray for the airline in his signature shapely style.
'Tasty Blue' catering concept
Aiming to bring a touch of design to the dining experience in Economy on long-haul flights, KLM this fall will introduce a new catering concept which it has dubbed 'Tasty Blue'.
According to KLM, the new service is based on the concept of a 'set table'. Says Madeleine Braun, Product Manager Economy Class Long Haul at KLM, "With the new Tasty Blue concept, KLM will set the table for passengers in Economy. And a set table should be colourful and appealing, especially given the important role of packaging today in influencing the perception and experience of consumers."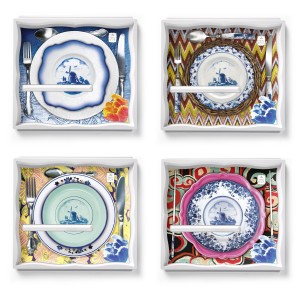 Similar to the intricate designs of Marcel Wanders for KLM's Business Class, the 'Tasty Blue' design in Economy represents abundant detailing in the form of embossing, colours, textures, hidden proverbs and expressions, detailed patterns and playfully drawn aircraft all concealed in the design.
A fresh white tray is combined with a paper traymat, tableware covers and paper boxes that are designed featuring Delftware elements and Neo-Baroque influences from the 17th century (which was the so-called Golden Age in Holland), but with a modern take.
The 'Tasty Blue' range consists of four designs: Dinner, Breakfast, Asia, and Bistro. Each is linked to a Delft Blue design that also shows up on the panels of KLM's new, lightweight economy class trolleys.
Says Ariane van Mancius from Now|New|Next, who worked with KLM and DeSter on the project, "The design language of today is one of hybrid concepts and mix-and-match, which calls for a variety of layers such as East meets West, technology meets craftsmanship, high-touch versus high-tech and history versus future."
The colourful and detailed designs have been developed by KLM's Senior Designer Rene Kemper, who is also responsible for the design of the airline's new livery.
Economy amenity kits
On a related note, this July KLM will also join the growing number of airlines that provide Economy passengers on long-haul flights with a complimentary amenity kit. KLM will initially offer an 'Economy Comfort Bag' – containing a bottle of water, a bag of nuts, an eye mask, earplugs, a toothbrush and a cold towel – on inbound flights from 7 outstations that depart late in the evening. The intention is to extend the service to more flights early next year.