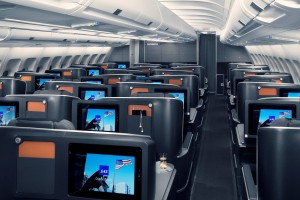 This article is re-published with kind permission of "www.airlinetrends.com".
As cabin interior upgrade cycles are becoming shorter, airlines around the world are working hard to keep up with this 'arms race' by introducing bigger and better premium seats, as well as smarter and lighter designs in Economy.
At the same time airlines are coming up with creative ways to improve the 'softer' service elements of the inflight experience. For example, as full-flat beds have now become the industry standard in Business Class, airlines are looking for ways to differentiate the premium passenger experience by 'dreaming up' service touches that improve the chance passengers can enjoy a good night of sleep onboard.
Examples include Virgin Atlantic's Snooze Zone and Delta's partnership with Westin Hotels. Qantas, meanwhile, has introduced what it calls 'Business Suites' on its A330s that let passengers recline from the moment they board until touchdown at their destination.
SAS A330 Business Class
Following years of restructuring in order to create a competitive cost platform, Scandinavian Airlines (SAS) has recently introduced its first refurbished A330 aircraft. Similar to Aer Lingus' new A330 Business Class – which offers passengers a well thought-out combination of product and service innovations – SAS' new premium cabin shows how carriers with a relatively limited long-haul network can respond to the passenger experience standards set by airlines from the Gulf and Asia.
SAS' new business class cabin features Thomson's Vantage XL seats – which have currently only been installed by one other airline, Qantas. Designed by UK-based FactoryDesign, the seats are a modern interpretation of Scandinavian design, including metallic edging, gold accents and electric blue in-seat lighting.
As Jonny Clark from TheDesignair puts it nicely: "With touch points of wooden veneer, dark charcoal fabrics with topstitching and electric blue details, the designers have gone for a mix of business elegance with contemporary cool."
Configured in a 1-2-1 setting (so direct aisle access for all passengers), the seats have a seat width of 23 inch between the armrests, a minimum bed length of 77 inch/200 cm, 15.4 inch HD RAVE IFE monitors from Zodiac and free WiFi for passengers in Business Class (as well as in Premium Economy).
SAS x Hästens
Following earlier initiatives from airlines such as Delta (Westin Hotels), Etihad (Cocomat) and Japan Airlines (Weave), SAS has partnered with a quality consumer brand to showcase its emphasis on providing passengers in Business with a good night of sleep.
The airline has partnered with iconinc Scandinavian bed and bedding brand Hästens – renowned for its quality and its trademark blue and white check – to develop new gray patterned bed linen pillows and blankets, as well as a mattress padding.
Comments Karin Wickberg Taylar – CMO at Hästens – on the the collaboration with SAS: "Hästens signature check pattern stands for high quality and this is important for SAS's passengers, particularly in SAS Business. We have produced a special SAS/Hästens check for our collaboration and we believe the passengers will see this as something exclusive."
On a similar note, Kristine Mayer, Senior Manager Product Design at SAS, said. "The idea behind the design was to create the best sleeping experience possible. We started looking for a collaborative partner and developed this together with Hästens.
If we look at where the idea comes from, we want to highlight the Scandinavian aspect in everything we do. Our blankets and pillows are from Hastens, as well as the mattress pads, which were a collaborative effort, which means you get a full bed experience, with the mattress pad, blanket and pillow."
Unlike the turndown service offered on AerLingus, passengers have to make their own 'Hästens' bed though when they want to get to sleep.
Snack bar, mood lighting
The new SAS Business Class cabin also features a new version of the SAS snackbar.
Rather like the Club Kitchen on BA Club World, it is a small walk up snackbar at the galley area to the rear of the cabin that is stocked with sandwiches, chocolate bars, Illy coffee and soft drinks.
SAS is also among a growing number of airlines that are retrofitting their cabins with mood lighting.
The airline is the first to install the HelioJet RGBW LED cabin lighting system developed by specialty glass and lighting expert SCHOTT and Lufthansa Technik.
A video tour of SAS' new Business cabin is available HERE.