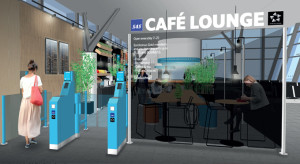 This article is re-published with kind permission of "www.airlinetrends.com".
While passengers travelling in Business and First and upper-tier members of frequent flyer programs can wait for their flight in the comfort of the airline lounge, Business Class passengers still have to wait with the 'hoi polloi' at the gate before boarding the aircraft via a fast lane (ideally).
First Class passengers often have a transfer to the aircraft from the lounge in a private car, or are escorted onboard directly.
SAS 'Café Lounge'
To improve waiting time at the gate for premium passengers, Scandinavian Airlines (SAS) has announced it will open a new Café Lounge concept at Trondheim and Tromsø regional airports in Norway this spring.
The SAS Café Lounges at the gate will complement existing SAS lounges at these airport and can be used by the airline's 'Plus Class' passengers, Business Class passengers travelling with Star Alliance airlines and Gold and Diamond members of SAS' EuroBonus loyalty program.
SAS says it aims to provide passengers with a dedicated, relaxing and working environment close to the departure gate and offer WiFi internet access, tea, coffee and pastries. They are designed so that business travellers can work right up until boarding the aircraft.
Says Eivind Roald, EVP Commercial at SAS, "Our most frequent flyers appreciate time saving services such as Fast Track, which is why we are now offering an additional service designed especially for them. Fast flows are important on our domestic market and customers can work effectively in our Café Lounges located close to the gate."
The SAS Cafe Lounge at Trondheim airport is scheduled to open in April and the facility at Tromso airport in May. Later this year, the airline will open further SAS Cafe Lounges at other Scandinavian airports.

Airberlin, Air NZ, Lufthansa
SAS upcoming Café Lounges are similar to Airberlin's Exclusive Waiting Areas at Berlin-Tegel, Cologne, Dusseldorf, Hamburg, Munich and Vienna airports. These mini-lounges are a convenient space where business travellers and frequent flyers can relax or catch up on last-minute work within a minute's walk of their boarding gate.
Australian Business Traveller also reports that the small footprint lounge model also has elements of Air New Zealand's Koru Express regional airport lounges.
Meanwhile, Lufthansa is one of the very few airlines to offer all passengers free coffee (image) and newspapers at gate areas at German airports.