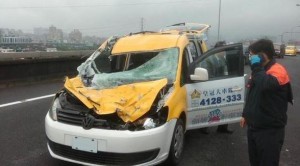 A plane carrying mostly Chinese tourists has crashed into a river in Taiwan, killing at least 19 people.
Dramatic video footage emerged showing the TransAsia Airways plane clipping a bridge as it came down shortly after take-off from a Taipei airport.
The plane, carrying 58 people, has broken up and the fuselage is lying half-submerged in the Keelung River. Rescue efforts are ongoing.
Another TransAsia plane crashed in bad weather last July, killing 48 people.
Rescuers on boats have cut the plane open to gain access, attempting to access passengers reportedly trapped in the front section of the fuselage.
Television footage showed passengers swimming clear of the wreckage, with reports suggesting 15 people had survived the crash and a further 24 were missing.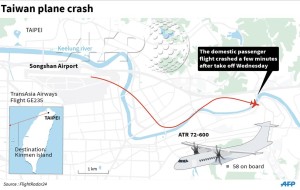 TransAsia said in a statement that one passenger had already been discharged from hospital but did not confirm the number of survivors.
The ATR-72 turbo-prop plane had just taken off from Taipei Songshan Airport and was heading to the Kinmen islands, just off the coast of the south-eastern Chinese city of Xiamen.
The final communication from the pilots to air traffic control was "Mayday, mayday, engine flame out", according to a recording played on local media. The recording was not immediately verified by aviation officials.
Flight controllers lost contact with the plane at 10:55 local time (02:55 GMT).
Footage of the plane filmed from inside passing cars showed it banking sharply, hitting a taxi and clipping the bridge before crashing into the river.
"I saw a taxi, probably just metres ahead of me, being hit by one wing of the plane," an eyewitness told local media.
"The plane was huge and really close to me. I'm still trembling."
Reports on the number of dead varied, with many citing numbers higher than the 16 confirmed by TransAsia.
The plane was carrying five crew and 53 passengers, including 31 tourists from the south-eastern Chinese city of Xiamen.
TransAsia said it had contacted relatives of all the 22 Taiwanese passengers and was attempting to reach relatives of the Chinese nationals on board.
The BBC's Cindy Sui in Taipei says the Chinese tourists could have been on their way home as many people come to Taiwan through Kinmen island.
TransAsia chief Chen Xinde offered a "deep apology" in a televised news conference, but said his planes had been "under thorough scrutiny" since mid-2014.
"Both our planes and our flight safety system are following strict regulations, so we also want to know what caused the new plane model to crash, but I don't want to speculate," he said.