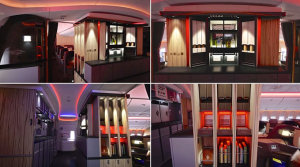 This article is re-published with kind permission of "www.airlinetrends.com".
At airlinetrends.com we continuously monitor the global aviation industry for product and service innovations launched by airlines in response to cultural, technological, and economic changes that influence airline customers' needs and expectations.
The top 10 product and service innovations we have selected this year reflect how airlines are becoming bolder in the design of new products and services as more airlines are embrading hospitality, design and technology as ways to differentiate the passenger experience.
THE AIRLINETRENDS.COM TOP 10 FOR 2014
1. China Airlines to feature 'Sky Lounge' and 'Family Couch' on new B777-300ERs
Taiwan's flag carrier China Airlines is transforming its products and services with the airline's new Boeing 777-300ER becoming the airline's flagship aircraft to showcase innovations such as a 'Sky Lounge' in Business and 'Family Couches' in Economy. Read article »
2. Aer Lingus' new Business Class ticks many passenger experience 'boxes'
Irish flag carrier Aer Lingus' new Business Class cabin in our opinion ticks many boxes of what the Business Class experience should look like in the coming years, as the airline has come up with a very well thought-out combination of product and service design. Read article »
3. Beyond First Class: Etihad's new A380 features 3-room 'The Residence' suite
Etihad has unveiled the world's first private multi-room cabin on a commercial passenger aircraft. Called 'The Residence', the 'über premium' space will feature a living room, double bedroom, and a separate ensuite shower room, while passengers will be served by a dedicated butler. Read article »
4. Smart design: Fixed headrest support on Etihad's new Economy seats
Hidden inside the press storm caused by Etihad's luxurious new A380 comes a smart design innovation of the airline's new Economy seats. Etihad's so-called 'Economy Smart Seats' feature a 'fixed wing' headrest, designed to provide a firm surface for passengers to lean on while sleeping. Read article »
5. Qantas new A330 Business Suite to offer 'gate-to-gate' recline
With the aim to provide frequent flyers in Business Class with the maximum amount of sleep, Qantas is introducing Business Class seats on its A330s that let passengers recline from the moment they board until touchdown at their destination. Read article »
6. Virgin Atlantic's 'Wander Wall' invites passengers to hang out in the galley
In an effort to reimagine how the galley area could become the domain of passengers as well after regular service is over, Virgin Atlantic on its new B787 Dreamliner has come up with an inventive 'Wander Wall' concept for passengers in Premium Economy. Read article »
7. Air France-KLM's 'e-tag & e-track' turns suitcases into connected devices
Air France and KLM, together with several partners, have developed a novel electronic bag tag and baggage tracker that enables passengers to label their luggage at home, drop bags at the fast bag drop and trace their luggage in real-time via their smartphone. Read article »
8. Business Class seats on South African Airways' A320s feature a 'tablet shelf'
Seats in Business Class on South African Airways' new A320s have an innovative feature: The back shell has a small shelf in which a passenger's tablet can be slotted to create a removable IFE solution, with a USB power point that keeps the device powered during the flight. Read article »
9. India's low-cost carriers get creative with their buy-on-board food packaging
Along with basic objectives such as protection and preservation, clever food packaging appeals to consumers' emotions and brings a product alive. Two great examples of attractive and fun packaging can be found in India, where low-cost carriers JetKonnect and IndiGo have come up with quirky buy-on-board food and beverage packaging. Read article »
10. KLM's 'Lost & Found Team' returns lost items to passengers on the spot
KLM has set up a dedicated 'Lost & Found' team at Amsterdam Schiphol Airport that aims to reunite lost items as soon as possible with their legitimate owner. The team uses all available information like seat number, phone numbers and public social media details to reunite passengers with their belongings a.s.a.p. Read article »