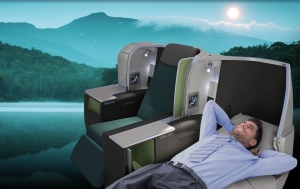 This article is re-published with kind permission of "www.airlinetrends.com".
Airlines around the world are working hard to keep up with the cabin interior upgrade arms race by introducing bigger and better premium seats, as well as smarter and lighter designs in Economy. At the same time airlines are coming up with creative ways to improve the 'softer' service elements of the inflight experience, ideally taking a holistic approach to design a branded passenger experience.
Irish 'value carrier' Aer Lingus recently announced details of its new 32-seat Business Class cabin, which in our opinion ticks many boxes of what the Business Class experience should look like in the coming years, as the airline has come up with a very well thought-out combination of product and service innovations. Or as Irish newspaper The Independent put it: "Is Aer Lingus's hot new cabin a business 'class', 'service' or 'experience'?"
Examples include pre-flight dinner in the airline's JFK and Boston lounges for passengers who want to maximize their sleep onboard, free wifi and ample stowage space for personal devices, the provision of dinner on demand onboard, tapping into Aer Lingus Irish heritage with items such as locally sourced food and the amenity kit cosmetics, and providing pre-flight clearance of US customs and immigration on flights leaving Dublin and Shannon.
Sleep, work, dine, relax
The seats, manufactured by fellow Irish company Thompson Aero, have been customized by Factorydesign who are also responsible for the new Thompson Vantage-based 'Mint' Business Class on JetBlue's new subfleet of transcontinental A321s.
Aer Lingus new Business Class seat transforms into a fully-flat 6'6" (2 metres) bed, which is one of the longest in the industry, with a seat width of 22". The staggered layout offers direct aisle access to 90 percent of Business Class passengers except those with a window seat in the first row. Irish supplier Botany Weaving has provided the fabrics for the Business Class cabin such as seat covers, carpets and curtains, with the fibres designed to reflect Ireland's weaving heritage. A video of the new Aer Lingus Business Class cabin here.
Aer Lingus will introduce its new Business Class on its seven A330 aircraft from March 2015, and what makes the airline's new premium passenger experience of interest is that Aer Lingus aimed to come up with product and services that design for multiple uses of one space based on a passenger's needs, depending on whether they wish to sleep, work, dine or relax.
Sleep
Passengers travelling from New York JFK and Boston Logan airports on flights departing in the evening can make use of a pre-flight dining service in Aer Lingus' lounges at the US airports. The new service facilitates those passengers who wish to sleep for the duration of the flight when crossing the Atlantic, meaning that as soon as the seat belt sign goes off when cruising altitude is reached, they can convert their seat into a full-flat bed for sleep.
A turndown service will also be available and passengers will be handed out amenity kits with samples of Irish organic cosmetics brand Voya that can be reused as a case for their tablets.
Work
All seats have built-in power points with universal sockets and USB power outlets, alongside ample work space. And to make the most of these amenities, Aer Lingus is one of the few airlines in the world to offer complimentary Wi-Fi to passengers in Business.
Furthermore, stowage has been increased to allow for mini-tablets to be stored under the personal monitor and laptops can be stored in specially designed stowage space. Special pockets for phones have been created and work lights with a dimming feature are standard on all seats.
Dine
Passengers will be able to enjoy on-demand dining instead of being served at a designated time. The new Business Class menu will feature seasonally driven dishes using Irish ingredients that are designed by restaurants from the four provinces of Ireland.
Relax
The Panasonic eX2 IFE system features a remote control and a touchscreen 16'' high definition monitor and is available gate-to-gate so passengers can start watching as soon as they board. For those who want to 'binge view' their favourite TV series, box sets will include HBO hits such as Northern Ireland's famed Game of Thrones and the popular TV show True Detective.
And in an interesting twist for further differentiate Business from Economy, Business Class passsengers will be able to choose from more content – that is 50 percent more new release movies, 100 percent more TV content, and high-definition games – than those in Economy.
On the ground
Besides a new business lounge at New York JFK airport and a new arrivals lounge in Dublin, passengers leaving from Dublin and Shannon can clear US immigration and customs in Ireland or as AerLingus puts it – 'you can arrive before you depart'.
The service means that passengers travelling to the US via Ireland are seen as domestic arriving passengers, enabling a speedy exit after long haul flights. Ireland is the only European country to offer this facility (video here).