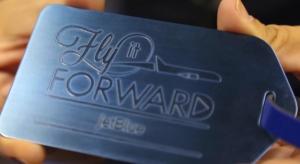 This article is re-published with kind permission of "www.airlinetrends.com".
JetBlue is putting its own twist on the concept of "paying it forward," in a social media-driven initiative called "Fly it Forward" (video here).
The program sends one ticket on a never-ending trip around the JetBlue network, aiming to enable people to fulfill a dream or make a meaningful humanitarian impact on the world.
The airline started the long-term campaign by awarding one free JetBlue ticket to several deserving individuals involved in humanitarian efforts, then let that person select another deserving recipient of a free ticket, and so on and so on.
Or as the Creativity Online website nicely summarizes the generous concept:
"JetBlue is turning an airline ticket into a chain letter of human goodness."
The first Fly It Forward ticket recipients, shown in this heartwarming video (1.2 million views of YouTube so far), include Tameka Lawson, who represented her Chicago non-profit I-Grow at a UN conference in New York, and Louis Elneus, whose organization Haiti Lumiere helped build the first public library in his home country of Haiti.
These initial recipients were found and picked by JetBlue employees, and now the airline is asking people to submit their own nominations for the next people to get the ticket, through the Fly It Forward microsite and social channels using the hashtag #FlyitForward.