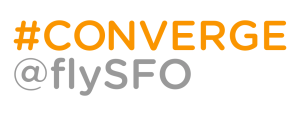 This article is re-published with kind permission of "www.airlinetrends.com".
Forward-looking airports are realizing they have to differentiate the passenger experience. Not only by designing seamless, efficient, processes and fancy terminals, but also by creating a distinct ambiance with a unique and flexible portfolio of retail, food & beverage and service concepts.
Says Hildegard Assies, co-founder of trend research and innovation agency airporttrends.com, "This emphasis by airports on connecting culture, places and people is setting off a new phase in airport development. By creating an authentic identity airports are taking on a new role as a 'cultural connector' and story teller. Besides being a space that handles passenger flows with a great shopping centre attached, airports are evolving into meaningful destinations themselves – an urban place where technology, culture, work, leisure and people connect."
San Francisco: Creative Capital of the World
A great example of this approach is San Francisco International Airport's (SFO) newest amenity – a space inspired by the Bay Area start-up culture and dedicated to the exchange of ideas, where thought leaders, innovators, investors, and travellers are encouraged to meet, greet, inspire and create.
Named #Converge@flySFO, the public lounge is designed to allow travellers to meet and exchange thoughts on technology, start-ups, the sharing economy, disruption, travel, politics, and ways that could make the world a better place.
The 850-square-foot facility – which opened mid-September – is a free, open space furnished with tables, lounge-style chairs, power outlets, free Wi-Fi and a white board covering an entire wall. Video of the #Converge@flySFO lounge here.
Travellers looking to make the best use of the space are encouraged to promote their intended topic of interest, date and time on their personal social media channels using the hashtag #Converge and tagging @flySFO where possible. SFO will then repost on its social media channels.
Connecting the Creative Class
"Adding a space for innovation and collaboration at an airport — especially an airport in a city that is focused on it being a hub for innovation — just made sense," said Doug Yakel, public information officer for SFO, noting that airport officials hope this space resonates with tech-savvy travellers and innovators who pass through.
"Real estate is at a bit of a premium post-security," Yakel said. "This location had previously been serving as an underutilized conference room and is accessible to three different concourses.
And the flights that operate out of those concourses make up about 50 percent of the traffic at SFO, so it gave us good exposure [and] a good opportunity for a lot of travellers to take advantage of it."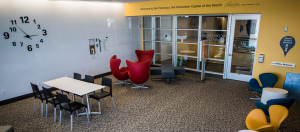 "If you think about it, airports are such natural places for people to get together with one another," Yakel continued, adding that by promoting their intended topic and time they'll be at the #Converge space, the potential for collaboration is high.
"Maybe you'll get some people you know, and maybe you'll get some like-minded individuals who are also passing through, and all of a sudden this organic thing starts developing."
"Our hope now is this becomes a location that is kind of the go-to place for the tech elite as they travel through SFO," Yakel said. "That as folks who are very influential in the information and technology world, they make this their place to spend time and engage people in discussion."
#Converge@flySFO is located in the International Terminal at Boarding Area G, on Level 3 near Gate G93.