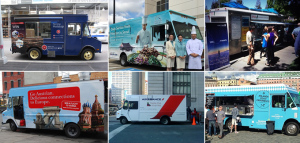 This article is re-published with kind permission of "www.airlinetrends.com".
Food trucks are a hot phenomenon these days, evolving from chip stands into quality gourmet food on the go. As experiencing the products and services offered onboard has become an effective marketing tool for airlines to engage savvy consumers, a handful of airlines have capitalized on the food truck trend for marketing purposes.
For more on how airlines are using their onboard catering to engage the general public, see our contribution to this New York Times article "Ground-Level Tastings of the Best Food in the Sky."
Air France, Austrian, Delta, United, Stockholm Arlanda Airport
For example, in March 2011 Air France sent their own gourmet food truck around the streets of New York City as a means of promoting their on-board catering services. The Air France truck featured dishes by Michelin Star Chef Joël Robuchon and was stationed at locations that were announced via Twitter and Facebook.
On a similar note, nearly a year prior to Air France's food truck debut, Austrian's coffee truck toured the streets of NYC as well. Austrian's initiative was centred around its direct flights to Vienna, and the coffee service was a homage to traditional Viennese coffee and was distributed freely.
Also on the food truck and aviation roster in NYC was Delta Air Lines, who served hot cocoa, while United Airlines promoted the launch of a new route from San Francisco to Taipei this May by partnering with Taiwanese food truck Mamaliu to offer San Franciscans free lunches courtesy of United during a week.
The first airport to use a food truck to promote the restaurants and cafes present at the airport has been Stockholm Arlanda, which sent the Arlanda Food Truck around Stockholm during the fall of 2013.
Korean Air
The latest airline to join the food truck bandwagon is Korean Air, which is offering Houstonians a taste of its in-flight meals in order to promote its non-stop flights between Houston and Seoul which it started this May.
Aimed at prospective business travellers, the truck – fully wrapped with the Korean Air colors and images – serves 250 meals on weekdays during lunch hours at the so-called 'energy corridor' of the city near the headquarters of General Electric Oil and Gas and Chevron. On weekends it sets itself up at local events in the Houston area.
Two flight crews from Korean Air, along with a catering chef who will prepare the sample meals, are running the food truck. Foods that are available for sampling include bibimbap – a dish of rice, vegetables, meat and hot pepper paste – galbijjim – baised beef short ribs – and Bulgogi deopbab, a bowl of rice topped with bulgogi or grilled marinated beef.
The meal service kicked off on September 29th and runs through Oct. 26, and Korean Air plans to serve 100 bibimbap, 100 servings of bulgogi deopbab and 50 plates of galbijjim per day.